January 2008 Newsletter
News
Welcome to 2008! A time for resolutions, goals and expanding our horizons. This month's newsletter brings you an author interview with long-time member Sarah Prineas, and next month the workshop will host a critiquing contest we hope will inspire and motivate you. We're adding a new section to the newsletter, "On Shelves Now," to highlight selected books by OWW members and alumni as they are published. If you have a book coming out, send us the publication date, a small cover graphic (JPG or GIF), and a brief description (from cover copy or a review, for example) the month before publication.
As always, contact us if you have any questions, publication announcements, or ideas for improving the OWW Newsletter. We hope 2008 is your best year ever!
Maria Zannini, newsletter editor
newsletter (at) onlinewritingworkshop.com
Monthly Writing Challenge
Thanks to a suggestion from member Cathy Freeze, January's challenge will be Bizarre Devices. Lots of good stories have been based around unusual objects--whether they be mysterious new computing mainframes, mystical stones, or clockwork monstrosities. Find something to explore about unknown devices, how people react to them, their discovery and dissection, and how...well, how shiny they are!
Challenges are meant to stretch your writing skills, so have fun! Post your challenge piece to the workshop in the month of January with "Devices Challenge" in the title so all your friends can find it.
Challenges can be suggested by anyone and suggestions should be sent to Maria (newsletter (at) onlinewritingworkshop.com). For more details on the challenges, check the OWW Writer Space.
Grapevine
2008 Odyssey Writing Workshop: Odyssey is a great opportunity to improve your writing and meet editors and authors. Jeanne Cavelos, Odyssey's director, founder, and primary instructor, is a best-selling author and a former senior editor at Bantam Doubleday Dell Publishing, where she won a World Fantasy Award for her work. This year's workshop runs from June 9 to July 18, 2008. Class meets for four hours in the morning, five days a week, and students spend about eight hours more a day writing and critiquing each other's work. Early admission application deadline is January 31; regular admission deadline is April 10. Tuition is $1800, and housing is $700 for a double room and $1400 for a single. The workshop is held at Saint Anselm College in Manchester, New Hampshire. For more info: phone/fax (603) 673-6234, e-mail jcavelos@sff.net, or visit the Odyssey web site.
Commendable Crit Contest:
In February the workshop will host a new contest encouraging participation and membership. Headed up by Joshua Palmatier in conjunction with OWW, the contest begins February 1, 2008 and will reward excellent workshop critiques. Winners receive free OWW memberships and autographed copies of Joshua's books. If you're not already a member of OWW, join us, at least for the contest. You get a free month's trial membership and get to meet a lot of nice people who think the need to write is a pleasant affliction. For complete rules, go to Joshua's
web site
.
Working Writer newsletter: Working Writer offers information with a good dose of humor and a spirit of writing camaraderie. Published bimonthly, WW features articles on promotion, publishing, freelancing, different genres, how-to, and how-not-to, written by readers across the country. To receive a free copy by e-mail (no strings!), send a request to workingwriters@aol.com
Editors' Choices
The Editors' Choices are chosen from the submissions from the previous month that show the most potential or otherwise earn the admiration of our Resident Editors. Submissions in four categories -- science fiction chapters, fantasy chapters, horror, and short stories -- receive a detailed review, meant to be educational for others as well as the author.
This issue's reviews are written by Resident Editors John Klima and Karin Lowachee. (There are no horror or short-story reviews this month.) The last four months of Editors' Choices and their editorial reviews are archived on the workshop. Go to the "Read, Rate, Review" page and click on "Editors' Choices."
Congratulations to the current Editors' Choice authors!
Editor's Choice, Fantasy
EMPEROR'S MISTRESS (CHAPTER 15) by Michael Staton
When writing fantasy, there are two simple prerequisites for a great story: a hero, and a villain. Michael Staton's EMPEROR'S MISTRESS appears to have both. The qualities of the hero are often not known until the end of the book. However, the villain's qualities should be apparent from the beginning. Staton's villain, Jarn, has the bedside manner of Shakespeare's Iago. He weaves words that engender trust in others, but all the time he's plotting how to make things best for him and worst for everyone else.
Additionally, there are some great parallels between Jarn and the hero Derrus. Both command respect from their followers; Derrus mostly through his father's legacy (although his own actions and successes are growing his own reputation), and Jarn also through reputation, but a reputation built on terror and violence. It may seem cliché to have the protagonist and antagonist mirror of each other, but it does lend itself to some great story structure. The author can put the two characters in similar situations and show how the individual reacts to it, thereby developing both characters for the reader at the same time.
For example, being a Prince gives Derrus a whole slew of reactions from people. Some are obsequious to him, others are deferential, and some are outright hostile depending on their opinion of nobility. Derrus will have to overcome these natural stereotypes to prove his worth. Jarn, on the other hand, does not start with the benefit of nobility. He's had to work his way to where he is now. But now his repute is such that people assume things of him without having met him. Both characters face assumptions, and for Derrus this is a detriment and to Jarn, an asset.
Something that bothered me while reading this chapter, and I know I've commented on this in the past, is the use of names. While many of us have several names/nicknames that people know us as, in a book, it can terribly hard on the reader to give each character too many names. We are in chapter 15 of Staton's book, and at this point the reader should know who the characters are. I'm obviously dipping in midway through the story. However, I think the reader would be better served if the characters were consistently referred to by one name. For example, there is a character Drevo, who I think is also known as Tylo, and another character Stealth is also called Ling Tai. I think.
Unless you have a cast of characters at the front of the book (or in an appendix) it's always best to be consistent. Throughout the rest of the chapter, most of the other characters were referred to by only one name. For me as a reader, when a new name is mentioned and no one has entered the scene, I get confused.
Now this may be due to the fact that I'm coming in part way through the story, but Jarn had an object called the orb that was not described physically in this chapter. Perhaps it's been set up and the reader knows what it looks like. While I agree it makes no sense to describe it every time it shows up, particularly if it shows up a lot. However, if it's unique, then perhaps the author can give other characters' reactions to it, since they'll have never seen it before.
For the rest of this review, visit the Editor's Choice area of the OWW site!
John Klima, Editor, Electric Velocipede
Editor's Choice, Science Fiction
CHAPTER 15, SAVING GRACE OF HUMANS by Alex Binkley
Half a year ago I selected a couple earlier chapters of this book as the Editor's Choice, making note of the uses of characters in a political forum. Here again we have a chapter dealing with high ranking officials discussing the pros and cons of humanity's association with alien beings. While the details may differ between science fiction books by different authors, the larger concept of humanity (and politicians) having to deal with aliens is one used over and over, so in light of this I chose this chapter to point out a few things to consider in such a scenario.
Kendo regarded his adviser as if he was seeing him for the first time. "I didn't know you to be a student of history or philosophy, General. But I think your conclusion is accurate. I wonder if by helping the Beings, humans will mature a bit." He paused briefly in an inner reflection. "The Beings almost destroyed themselves. Sometimes I wonder if Earth is more likely to die from the effects of a 1,000 stupid little wars, not one big one, if the planet doesn't first become an oven through climate change. What do you think of their request?"

"You mean about how I feel personally?" Kendo nodded. Let Davie commit himself first. He was sure his staff all felt the same about the aliens.
Putting humanity at risk in the hopes that it will mature as a planet of (apparently) 9 billion souls seems a little naive for the secretary general of the UN. Even if Earth is a war-torn place, it's no small risk to launch it into an interstellar war with races that are evidently more technologically advanced. As well, the later argument that people have been used as mercenaries in inter-Earth wars is hardly a real reason to put the entire species at risk in an interstellar one. If anything of Earth's conflicts, in history, may have taught both Kendo and his aide, it should be that fighting someone else's battle usually doesn't end well. Although there may be some misinterpretation, since I'm reading this mid-book, Kendo's thoughts and reasons for going to war with the Beings seem not solid enough. Even if Kendo is more of a warmonger (that seems to be the impression), some more consideration of the naysayers he will face and their valid reasons could be better heavily worked into this chapter.
It seems this is a crucial conversation as we are getting a peek into the machinations of a government that may or may not completely change the course of humanity's future (or lack thereof, depending on the outcome). I didn't feel the gravity behind the proceedings as there should be. A scene like this could even be excised if it would be followed by a virulent debate among the powers that be, where strenuous argument and drama can be illustrated, culminating in Kendo somehow battering all of that down in order to get his way. As it stands the scene is somewhat dry, perhaps even too conversational considering what is at stake, and doesn't utilize the full tension that could be instilled in such a situation. When politics and war come together, there is an inherent tension that could be eased into every conversation and scene, especially in the setting-up plot moments between characters, states, species, and etc. Ask yourself if this is the best way that this information could be delivered in order to ratchet up suspense and keep the reader turning the page.
For the rest of this review, visit the Editor's Choice area of the OWW site!
Karin Lowachee
Author of BURNDIVE and CAGEBIRD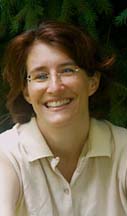 OWW alum Sarah Prineas is the author of THE MAGIC THIEF (June 2008), a delightful YA book about a city run on living magic and a scruffy kid with a dark past. Sarah has a three-book deal with HarperCollins Children's. HarperCollins has made 10 foreign-language rights sales plus UK/Australia/New Zealand so far. Sarah's web site can tell you more about the book, and of course you can find it at Amazon. Sarah's name is all over the workshop's archives, as an Editor's Choice author, an often-acknowledged reviewer, a contributor to our newsletter tips, and the subject of many publication announcements. She has benefitted from OWW and over the years has clearly given back as much as she has gotten or more. Here she shares with us some of the details of her writing life post-workshop.
Where did the concept of THE MAGIC THIEF come from?
The way I come up with story ideas is to have one idea and jot it down in a Word file and set it aside until I find another idea or two to put with it. In the case of THE MAGIC THIEF, I had the first lines in one of those files: "A thief is a lot like a wizard. I have quick hands, and I can make things disappear." Then I read a letter to the editor of Cricket magazine asking for more serial stories and more stories about wizards. I figured I could do that if I had a kid protagonist, and Conn became the thief that spoke those words. His character drives the plot, so all I had to do was invent situations and challenges and see what he would do.
Now that you write YA, do you use your children as a sounding board for feedback?
Oh yeah, all the time. The first book is dedicated to my daughter because I worked out the plot while we were on long walks together, and the second book is dedicated to my son because he came up with a really fun plot twist. They are hugely motivating as I write the books, because they track me down and demand "more Conn and Nevery!" I'm reading the second book to them now.
Good feedback is critical. Do you still have critique partners? What's the best part of a crit relationship?
I can't imagine being a writer and not having critique partners! Writing is lonely; without the support and friendship of my crit partners I couldn't do it. My very first crit group was the OWW, and I learned so much from giving and receiving critiques, and from being part of the OWW community. Now I have a couple of close friends who read, critique, and cheer me on, and I return the favor for them. I'm also in an in-person critique group, which includes OWW members Deb Coates and Rachel Swirsky. And for the past two years I've attended the Blue Heaven novel workshop organized by Charlie Finlay. What's the best part of the crit relationship? Mainly knowing that I'm not alone. We're all struggling with the same things: finding our voice, finding a market for our work, coping with rejection. We also celebrate our successes. And we gossip; I couldn't do without that.
Gotta ask. Are you an outliner or a pantser? How much do you know before you start writing?
Pantser!! One of the best things I learned in the past two years was how to write into the void, trusting that I had the skill to come up with whatever happens next. How much do I know? Well, I write YA fantasy, so you know there's going to be some big thing at stake, and cascading action scenes leading to a big conflict near the end, and that we're not going to have a downer of an ending. The fun is figuring out how all that happens, exactly.
On your web site, you mention that you didn't think of your novel as YA until your agent sold it to HarperCollins. Did that surprise you?
I was dumb to be so surprised. I'd started the story intending to sell it as a story to Cricket, which is a magazine for kids. But by the time it was a novel and I had an agent, I figured it'd go out to the major sf/fantasy houses like Tor, Del Rey, etc., because that's where my peers were selling. I didn't think of myself as a children's writer, but as a fantasy writer. Fortunately my agent is a bit more astute than I am.
What did your agent love so much about THE MAGIC THIEF?
Heh. That it's really, really commercial. She thinks I have a good line on commercial fiction, which I think is funny, considering how clueless I was about where MAGIC THIEF should be marketed. I think she enjoyed the novel because it takes up some very familiar fantasy tropes--orphan kid, magic, wizards--and yet the voice feels fresh.
Do we see the protagonist, Conn, grow up in the books that follow or will you be writing about other characters in this same world? Tell us a little about him.
Yes, Conn is the protagonist of the three books, and he does grow up a bit. It's possible later books in the series (if I get to write them!) will have different protagonists in the same world. Conn's a scruffy kid with a dark past, and is used to looking out for himself. He's really fun to write because he's completely pragmatic--he will always act to solve his own problems. Conn is a product of advice given by longtime OWW member E: "The protagonist must protag." In every situation, Conn protags.
How did you find your agent? How long did the process take?
I'm sorry that I don't have a grueling story of persistence and pain for this answer. One of my agent's clients read my book and introduced me to her; she offered representation about a week after I sent her the book. It was a fairly straightforward, quick process.
Knowing what you know now, what would you do differently given the chance?
One of my life mottos is "No regrets!"" So no, I wouldn't.
YA is hot! Do you have any specific advice for up and coming YA writers? What can they do to distinguish their work from so many other submissions?
You'll probably hear this elsewhere, but voice is absolutely key in YA. The readers want to bond with a protagonist and once they do will follow that protagonist anywhere. Notice how many YA books have this confiding, intimate voice, as if the narrator (both in first person and third person) is speaking directly to the reader. I think this voice is very difficult to make sound authentic. If you can write using a distinct voice your work will for sure stand out.
What's next after THE MAGIC THIEF? Where would you like to see your career in five years?
Next is MAGIC THIEF II and then MAGIC THIEF III (these are not titled yet). And then hopefully the option book, known as MAGIC THIEF IV, followed by, yes, a fifth book in the series. I really love my protagonists and look forward to going along with them for a bit longer. After that I've got a couple of novel ideas starting to take shape. In five years I'd like to be a better writer who has written a book or two outside the MAGIC THIEF series.
Anything else you'd like to add?
Just a note to anybody reading this. I assume you're a writer. As you know, writing is hard. You can find plenty of reasons to give it up. Try to find the reasons to keep doing it. Good luck!
Publication Announcements
We can't announce them if you don't let us know! So send your information to Maria at newsletter (at) onlinewritingworkshop.com whenever you have good news to share.
Clover Autrey's fantasy romance UPON EAGLE'S LIGHT is being released from The Wild Rose Press. She says, "I would never have gotten this far without OWW."
Cathy Chance's short story "Call Signs" will be published in the March 2008 edition of Afterburn SF.
Jennifer Dawson's story "Not Quite As It Seems" is being published in the July 2008 issue of Beyond Centauri. She says, "The story was workshopped back in 2003 and would not have been accepted for publication without the many reviews it received here. I'd like to thank Elizabeth Hull, Cathy Freeze, Leonid Korogodski, Donna Johnson, and Susan Elizabeth Curnow for their invaluable feedback."
Rayne Hall says: "Two of my published stories have won Honorable Mentions in Ellen Datlow's Year's Best Fantasy and Horror 2007. I had workshopped both stories at OWW and received very helpful crits. I don't know if anyone remembers critting them since this was in 2004-2006. ('Burning' was originally published in Byzarium and has been anthologised elsewhere several times since in slightly different versions. 'The Bridge Chamber' originally published in the horror anthology Read by Dawn Vol 1)."
Vylar Kaftan has been busy! Not only is Vylar a finalist for the Pagan Fiction Award with her story, "The Black Doe," she also has "Pointing at the Moon" in December's Cosmos and "Scar Stories" in Bandersnatch. And she's just signed a contract for "The Luckiest Street in Georgia" to appear in the June issue of Realms of Fantasy.
Rochita Loenen-Ruiz has sold "The Wordeaters" to Weird Tales. "This is a story that was workshopped on OWW. I'd like to say thanks to the folks who critted this piece. Off the top of my head, I remember Calie Voorhis, Fiona MacDonald, and Erzebet Yellowboy who read this story and I won't forget how Richard Rogers had such faith that the story was a good one."
Sean Markey has sold "Sorrowbird" to Fantasy Magazine. "I would like to thank Vylar Kaftan, Aliette de Bodard, and everyone else who helped by critiquing this story for me."
Suzanne McLeod's agent has made a 3-book deal with Gollancz. SPELLCRACKERS is the first book in the series. Suzanne would like to thank Cathy Freeze, Calie Voorhis, Sierra Black, Ursula Warnecke, Fiona MacDonald, Deb Atwood, Katrina Kidder, Sarah Trick, Sharelle Toomey, "and others, whose names have sadly disappeared into the black hole that ate most of my old computer."
Sandra Panicucci had "Growing Up Dragon" accepted for the Feb-Apr issue of Sorcerous Signals. "Too Hot To Handle" (written for the February 2007 challenge on interspecies dating) was just accepted by Byzarium. She comments, "After four years of rejection that's two in three months. I hesitate to brag because I don't want the gods thinking I'm getting overconfident, but since you asked..."
Sharon Partington
's novel THE ASSASSIN JOURNALS: HUNTER is available from
Samhain Publishing, Ltd
as an e-book and will be available in print next September. It was workshopped on OWW. Samhain will also be publishing the next books in the series.
Ursula Warnecke sold short story "Ink Stained" to Afterburn SF for the June 2008 issue. "The story received two lovely, thoughtful and helpful reviews on OWW, one from M David who I would like to thank very much, and one from Gary Peterson, who I can't unfortunately thank but I have to mention his enthusiasm and interest in the story. Both were really helpful to me in polishing the story. This sale is for Gary."
Beth Wodzinski has gotten word that her story "The Human Clockwork" will appear in the January Flash Fiction Online, a new pro-paying flash market. "I'm really fond of this story, but it's been tricky to place it; I'm thrilled to have it go to a good home."
Maria Zannini has two articles centering on the writing life: "Networking Nightmares" in the December issue of WOW! and "Motivation Triggers" in the January issue of Vision: A Resource for Writers (just in time for resolution-making).
On Shelves Now
New books by Online Writing Workshop members or alumni
THE VACANT THRONE by Joshua Palmatier (Daw, January 2008)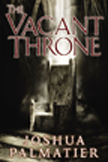 The city of Amenkor has managed to stave off the Chorl's deadly sea invasion, at an unthinkable price. But the Chorl have not been defeated. In order to survive, Varis-the reluctant Mistress of the city-and the citizens themselves must seek aid from their only ally: their sister city of Venitte. But Venitte holds a secret, one that could save the entire coast from the Chorl incursion...or be the key to the coast's ultimate destruction.
DUST by Elizabeth Bear (Spectra, December 2007)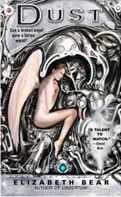 Science so advanced it's like magic and people, the spaceship's royalty, who are somehow altered by the nanotech colonies that make them Exalt but remain neurotic and struggling like ordinary humans. The ship hasn't moved in centuries, and Engine and Rule (parts of the ship) are nearly at war. Desperately trying avert war, Rien helps Sir Perceval escape Rule and dangerously trek to Engine, near-constantly watched by Jacob Dust, the Angel of Memory, while the other angels and devils make alliances in the continuing battle for survival. As the smaller angels are devoured, battle to control the hulk of the ship Jacob's Ladder nears an end. Bear's approach to the story results in exactly the kind of brilliantly detailed, tightly plotted, roller-coaster book she has led her readers to expect, replete with a fantastic cast of characters (Booklist).
QUEEN FERRIS (Book Two of the Stoneways Trilogy) by S. C. Butler (Tor, October 2007)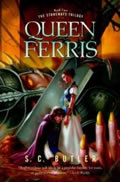 Reiffen, true heir to the kingdoms of Banking and Wayland, had lived his entire life quietly with his mother and best friends, Ferris and Avender. His days were filled with sailing, fishing with the talking seals, and trying to swipe as many extra maple candies as he could. All that changed when the three Wizards snatched Reiffen away to their fortress in the north. There they offered Reiffen the twin gifts of power and immortality--if he helped them wrest control of Banking and Wayland away from his uncle, the usurper. Although Reiffen's friends rescue him at great peril, Reiffen now decides to return to the Wizards knowing that he would never again be trusted in this old life--even his best friends would fear that the Wizards had 'turned' him. He intends to fool the Wizards--gain their knowledge, find their weaknesses, and defeat them with their own weapons and regain the throne that is rightfully his. But Reiffen is forced to do terrible things to gain the Wizards' trust. Has he become as greedy, ambitious, and avaricious as the three Wizard brothers?
Membership Information
How to pay: In the U.S., you can pay by PayPal or send us a check or money order. Outside of the U.S., you can pay via PayPal (though international memberships incur a small set-up fee); pay via Kagi (www.kagi.com--easier for non-U.S. people); send us a check in U.S. dollars drawn on a U.S. bank (many banks can do this for you for a fee); or send us an international money order (available at some banks and some post offices). If none of those options work for you, you can send us U.S. dollars through the mail if you choose, or contact us about barter if you have interesting goods to barter (not services).
Scholarship fund and gift memberships: you can give a gift membership for another member; just send us a payment by whatever method you like, noting who the membership is for and specifying whether the gift is anonymous or not. We will acknowledge receipt to you and the member. Or you can donate to our scholarship fund, which we use to fully or partially cover the costs of an initial paying membership for certain active, review-contributing members whose situations do not allow them to pay the full membership fee themselves.
Bonus payments: The workshop costs only 94 cents per week, but we know that many members feel that it's worth much more to them. So here's your chance to award us with a bonus on top of your membership fee. For example, is the workshop worth five dollars a month to you? Award us a $11 bonus along with your $49 membership fee. 25% of any bonus payments we receive will go to our support staff, sort of like a tip for good personal service. The rest will be tucked away to lengthen the shoestring that is our budget and keep us running!
For more information:
Payments, bonus payments and information about our company, and price comparisons
Tips
Submitting chapters or stories with the same title: If you try to submit something with the same title as one of your existing submissions, the workshop will treat it like an update rather than a new submission. To submit a new and separate version of the same story or chapter, just add some text (Version Two, new version, etc.) to the title.
Got a helpful tip for your fellow members? A trick or hint for submitting or reviewing, for what to put in your author's comments, for getting good reviews, or for formatting or titling your submission? Share it with us and we'll publish it in the next newsletter. Just send it to newsletter (at) onlinewritingworkshop.com and we'll do the rest.
Until next month -- just write!
The Online Writing Workshop for Science Fiction, Fantasy & Horror
sff.onlinewritingworkshop.com
support (at) sff.onlinewritingworkshop.com