October 2008 Newsletter
News
And the countdown to the end of the year begins. We have a few more cons and workshops left in the year, but the task of writing a good book never ends. So how is your year turning out? Did you find new critique partners on OWW or discover yourself writing better critiques for others? There is a lot of talent on the 'orkshop, but it's up to you to participate. To get good crits, you have to deliver the same.
So what are you waiting for? Go and find thee someone new to review.
As always, contact us if you have any questions, publication announcements, or ideas for improving the OWW newsletter.
Maria Zannini, newsletter editor
newsletter (at) onlinewritingworkshop.com
Monthly Writing Challenge
This month's challenge is experimental Prose Part Two: Tense
Your experiment is to write one scene from three different
times/tenses: Past, Present, Future. Too often we write in about the future in the past, the present in the past, in fact 99.999% of the prose you read is written in the past. Let's do the time warp again! Pick a scene, any scene, and write it the way you're used to; now rewrite it in present tense, and do it again in future tense.
This is all about building those writerly muscles!
Remember: Challenges are supposed to be fun, but don't forget to stretch yourself. If you normally write fantasy, try SF. If you've never tried space opera, here's your chance. It doesn't have to be great. It's all about trying new things. There's no word limit, no time limit, no nothin'. Just have fun.
Challenges can be suggested by anyone and suggestions should be sent to Maria (newsletter (at) onlinewritingworkshop.com) or Walter Williams via the discussion list. For more details on the challenges, check the OWW Writer Space.
Grapevine
We have a couple of things we've found through the grapevine, both from the UK.
Call for submissions for 2009 Legend Press short story collection

"We are publishing the fourth in our acclaimed series of short story-collections and are looking for talented, vibrant authors to submit stories for consideration. Our short-fiction series, called 'The Short Story Reinvented', is designed for today's busy, but discerning, reader. We plan to publish the new collection at the end of March 2009 and are calling for writers to send in their submissions by 31st October 2008. See the guidelines for more information."
Call for submissions for Farspace Anthology 2
"Short stories (500-5000 words) in the genre of speculative fiction. i.e., any story that attempts to answer, directly or indirectly, the question 'what if'? . We will accept stories up to 7500 words, but they will have to be of exceptional quality to be published. We will only accept e-mail submissions. Your story should be sent as an attachment in either doc or rtf format. To ensure your mail doesn't get filtered to our spam box, include submission Farspace Anthology 2 in the subject. For more details visit the writing.com web site.
Editors' Choices
The Editors' Choices are chosen from the submissions from the previous month that show the most potential or otherwise earn the admiration of our Resident Editors. Submissions in four categories--science fiction chapters, fantasy chapters, horror, and short stories -- receive a detailed review, meant to be educational for others as well as the author.
This issue's reviews are written by Resident Editors Jeanne Cavelos, John Klima, and Karin Lowachee. The last four months of Editors' Choices and their editorial reviews are archived on the workshop. Go to the "Read, Rate, Review" page and click on "Editors' Choices."
Congratulations to the current Editors' Choice authors!
Editors' Choices, Fantasy
WISPY, Chapter 1 by Kelley Harmon
The first chapter of a novel is tricky. You want to reveal enough about the story to get the reader interested, but you also want to hold enough back to keep them reading. It requires a delicate balance to give out just enough. Kelley Harmon's WISPY provides the reader with the impetus to keep reading, but could be served well to explicate her story a little better. Harmon goes back and forth from engaging well-written passages, to parts that just feel rushed.
Early on the protagonist, Lazuli, recounts the day before and how her poor attitude from the rain was worsened upon arriving home and running into a Nest Mother and having some sort of punishment meted out on her. Harmon does not make clear for the reader what the Nest Mother represents, or whether Lazuli's punishment came from being late or for cursing or both.
Similarly, there are many different classes or types of people introduced in this opening chapter, but Harmon doesn't explain them fully enough. Even if this information comes out in later chapters, it wouldn't hurt to explain them more fully as the reader is getting introduced to things. The reader would benefit from learning more about what the Nest is, what Nest Mothers are, what Hanmes are, and how they all relate to each other.
This is a rare case of too much showing and not enough telling. Harmon uses conversation, internal thoughts, and actions to give out details about who the characters are. Normally, this is what writers should strive for, but here it leaves the reader wanting more. Harmon needs to give a little bit more space to actually telling the reader who these people outside of their actions and thoughts. Of course, going into too much expository detail will bog the story down. As I said, it's a delicate balance.
Harmon also needs to work on transitions. One scene moves from Lazuli and Rido running late to Rido's lessons. Then it abruptly shifts into the thoughts of the Nest Mother. Perhaps this is a flaw of the html here (Harmon does say in her notes that the html was acting weird for her) but if it isn't, then some sort of transition needs to be put here. You cannot move the reader from one set of characters' thoughts and actions to another's without transition.
In addition to using the "show, don't tell" maxim to good ends, Harmon also creates a set of compelling characters that will further motivate the reader to keep turning pages. All of the characters are very believable people. At this point in the story, they represent fairly staid archetypes -- Lazuli is the inexperienced young girl who has a job bigger than she should and has to prove herself to everyone; Peridot (Rido) is the handsome, daring wizard who thinks he's everything to everyone; Nest Mother Hazel wants to enforce rules and make sure that everyone stays in line -- but there is a lot of novel to come after the first chapter where these characters will get the chance to surprise the reader.
There is a great chemistry between Lazuli and Rido. We first meet Rido with a not-so-unexpected occupant in his bed. Lazuli was frazzled by waking up late, but not at seeing a comely woman in bed with Rido. Two quick asides: the woman is alternately called a woman and a girl -- it should be settled which she is and stick to it; and Rido is called 'a looker' which doesn't sound in line with the rest of the language used in this piece. After the young lady finds her way out, Lazuli and Rido have a great back and forth while he gets dressed. It feels very natural and unforced.
When they rush off to lessons, Nest Mother Hazel quickly deflates any joviality the two were feeling. And it's done well. There's a reputation to Hazel that's hinted at without giving examples, at this point, and it's enough to make both characters check themselves. Even the over-confident Rido is forced to change tack in the face of Hazel.
The chapter closes with Hazel musing over the fact that instead of getting a hanme that was older and more mature, as well as the same gender, Rido has a hanme that is younger and female. In Hazel's words, "[A] girl who belonged in the male dorms was the sort of anomaly Dread Mother Hazel found very difficult to work around." At this point, however, the reader still doesn't have a good definition of what a hanme is and why it matters that Lazuli is one.
If Harmon works on her transitions in this piece as well as providing a little more information about the world these characters are in for the reader, this piece will improve greatly. The characters are well conceived and their dialogue and interaction is well written. Adding more information will not prove difficult when Harmon already has the tougher task of creating believable people accomplished.
--John Klima, Editor, Electric Velocipede
Editors' Choices, Science Fiction
LARGE GODS FOR SMALL CHILDREN, Chapter 5, by Ogi Ogas
A previous chapter of this book has been consider ed for an EC and it's great to see the book is progressing because it reads like one nearly set for publication. Confident prose, interesting characters, and a driven plot weave together to make a fascinating narrative on all fronts. Wheel is an ex-CIA operative, now a freelancer of his particular talents as a hit man, who becomes embroiled in an intriguing but deadly scenario that manages to unfold with the brisk but descriptive pace of a seasoned detective novel. He has his contact, Benji, in the CIA still; his patron -- a mysterious disembodied voice with an agenda of his own; and his target, a seemingly innocuous teenager with a sulphurous gaze. Tied into all of this is some "juju" (or perhaps biological) danger, exotic locales, and a building backstory of what Wheel has done (or not done) in his life.
By Chapter 5 we're well on our way with Wheel's new target; though he maintains he won't cancel a child, he's convinced at least to investigate and by the end of the chapter has an encounter that puts the ability to do his job on American soil in severe jeopardy.
The opening paragraph works on many levels:
Wheel sat in a platinum Lexus sedan, rented from Thrifty on forged credentials, parked down the road from the Carver Center for Arts and Technology. A magnet school in Towson, just north of Baltimore, 'The City That Reads.' A racially and socioeconomically diverse mix of students from across the post-industrial city and Baltimore county. A soccer field, a lacrosse field, a long two-story brick building, and a huge gym--once a warehouse where trucks unloaded mulch. Grades 8 to 12, boys and girls, with a prescribed uniform of navy blue and white; though from what Wheel had observed so far, the dress code was enforced only casually. Many of the skirts were too long--or far too short--or augmented with flashy embroidery; some boys wore dark jeans instead of slacks, and painter's caps low on the forehead seemed to be this year's style.
Because it's been established that Wheel is an operative and obviously works in a certain manner in keeping with that job, delivering description like this goes hand in hand with the fact he is set up to recon the school for a hit. The descriptions are no-nonsense, the choice of details encompass what he needs to know, and also serves to embolden the fact we are dealing with a character who misses very little, if anything. His attention doesn't wander from his task in the following paragraphs, but rather draws the reader into what he's been doing -- which is basically staking out this kid's life in the hopes of finding the best time and place to assassinate him. Using description to reflect the state of mind or personality type of a character is a useful, layered way of storytelling. If the author had chosen flowery phrases and long, meandering paragraphs it would not have reflected the character or the genre. Being conscious of tricks like this helps to create a tone and atmosphere that compliments the characters and the type of story you want to tell.
The reader is carted along with Wheel as he executes his grim but fascinating job, and this makes for dynamic storytelling. The reader is encouraged to be curious about what will be at the end of all these observations, and is also given the opportunity to piece together what all of it might mean as clues of a wider plot were dropped in previous chapters. It isn't only Wheel who is gathering information on the boy and the situation; what Wheel is learning, so is the reader.
The narrative does get a little muddy once Benji's intel is introduced. While it makes sense not to deliver the information chronologically (starting off the chapter with Wheel spying on Carl is effective), a smoother transition might be needed so we don't lose the current time and place. In a plot that depends heavily on what happened when, and to whom, it's important to keep those threads as delineated as possible. Introducing Carl in a kind of backstep in the narrative didn't help matters as it wrenched the reader a little in the visual of what was going on. "A few minutes earlier" makes the reader have to scan back in their mind and fix the picture that had just been created of the action Wheel observed in the "real time" of the narrative. Perhaps weaving Wheel's first sight of Carl into the paragraph about the Bentley would keep things in simple order, and then backtracking to the conversation with Benji wouldn't feel so much like yet another shift in time.
The conversation with Benji also feels rather disembodied, rather than grounded. While it serves as a memory of sorts, of what Wheel needed to know and the interesting dynamic between himself and his contact, situating him somewhere specific (in his hotel, in his car) could add just the right amount of details so things don't float quite as much in a narrative that is otherwise so solid. A picture of that location doesn't necessarily need to be painted, but just a mention of where he is would help, as the conversation is more than a couple paragraphs long and provides important information.
For the rest of this review, visit the Editor's Choice area of the OWW site!
--Karin Lowachee
Author of BURNDIVE and CAGEBIRD
Editors' Choices, Short Story
No short story review this month. We are looking for a new Resident Editor for short stories--an editor, publisher, agent or established author who can craft a polite and helpful critique. Send your suggestions to us at support (at) sff.onlinewritingworkshop.com
Editors' Choices, Horror
VENDETTA, Chapter 1 by Toni Stauffer
In this opening chapter, Jess, Mike, Denise, and Andy watch a strange band, the Voodoo Village People, setting up in a bar. They discuss the real Voodoo Village, a dangerous, mysterious place hidden in a bad neighborhood, and they decide to go. When they arrive, a truck blocks the entrance. Andy takes photos, angering the residents, and he and his friends race away as the truck pursues. Andy tries to fire a warning gunshot, but he accidentally hits the truck, and it crashes. Mike swears them all to secrecy, and they go home.
The chapter builds some good tension as we anticipate the horrible things the characters will find at Voodoo Village, and the horrible things that will happen to them. The description of the characters searching for the village, and the mysterious road that leads to the village, help to make the existence of the village believable (one of the great challenges of this premise) and to raise our expectations for what they will find. The range of personalities of the four friends provides some good contrasts and conflicts.
I think the story has great potential, but I feel that two main weaknesses are holding this chapter back from doing all it needs to do.
The first is that the plot lacks unity. Right now, the plot sets up certain expectations that don't pay off, and it offers payoffs that haven't been set up (and thus lack impact). The chapter dives quickly into the decision to go to the Voodoo Village, without developing the characters much, without establishing a strong desire for the protagonist (who I assume is Jess), and without establishing an internal conflict for Jess. Because the characters aren't really developed, I have no sympathy for any of them. I don't really believe that these characters would make this decision, but I'm happy to go along, expecting they will be killed, in very creative and entertaining ways. This makes me think the story is going to be very much like a slasher movie--like The Texas Chainsaw Massacre.
Yet the chapter satisfies none of these expectations. None of the friends is killed, or even wounded. Only a glimpse of Voodoo Village is shown. I don't really see anything in that glimpse, or in the truck chase, that truly scares me. Since I was expecting much more intense violence, I end the chapter disappointed. If I wasn't expecting anything bad to happen, then the confrontation with the truck could be surprising and satisfying. But you spend the majority of the chapter building up my expectations.
The climax of the chapter depends on a gun that we didn't know existed until Mike pulled it out. That makes the climax feel manipulated by the author rather than developing on its own. The gun needs to be established near the beginning of the chapter. The climax also depends on chance, with Andy's hand hitting a pole that happens to knock the gun just as he fires it. That's not satisfying and again feels like the author's hand intruding. Instead of this, the main character, Jess, should need to make a difficult decision at this climax, so we feel closer to her and she is more than an observer. Perhaps the gun is in a locked box in the back seat, and Mike tells Jess the combination and asks her to pass the gun to the front. Then she must make the decision whether to give Mike the gun or not. I think making Mike the one who fires the gun rather than Andy would help heighten the relationship problems between Jess and Mike. Mike can try to get Andy to fire, but when he refuses, Mike can fire it. He can say he's firing a warning shot, but he actually fires at the truck, because he's afraid.
Ultimately, the chapter turns out to be about the relationship between Jess and Mike, even though the characters seemed more or less irrelevant at the beginning. To create a unified plot, the chapter needs to be about this Jess/Mike relationship from its beginning. This also needs to tie to Jess's goal and her internal conflict. For example, Jess may have just learned that she is pregnant. Her goal is to get away from Andy and Denise so she can tell Mike this news. Her internal conflict is the desire for Mike's support in the raising of the child (which probably means marriage) versus the desire to keep the baby away from Mike, who she knows has a bad temper and will not be a good father. If you start the chapter with Jess trying to convince Mike to leave the bar, and show both of these characters through some dialogue and actions, so we gain sympathy for Jess and get a sense that Mike is insecure and angry, then the end of the chapter will show a change in this relationship that makes Jess's situation even worse, which is what you want.
The second weakness is the point of view. It looks like you've only partially translated the chapter from third person into first person. There are numerous point-of-view shifts throughout. A large chunk of the chapter, when Andy talks to the woman at the bus stop, is written from the third-person-limited POV of Andy. Later, the chapter slips in and out of Denise's head ("Denise gripped her seat") and Mike's head ("Mike could see several men approaching"). You need to more firmly visualize and experience each moment of the story as Jess would experience it. Right now, I feel that you're seeing the story as a movie, with the camera jumping around and shooting from different angles. This isn't usually the best way to tell a story. One of the great strengths of fiction is that the author can bring us very close to a character, allowing us to experience events as this character would experience them.
I think part of the reason the POV is weak is that Jess isn't strongly involved in the action and doesn't have much of an interior life (a goal and internal conflict, as discussed above). Increasing her involvement will help you strengthen her POV.
The solution to strengthening POV is not switching from third person to first person. There are certain stories that work best in third person, and certain stories that work best in first person. You should pick your POV based on the type of story you are telling and the type of main character you have. Generally, you should use first person only if the POV character has a strong, compelling, distinctive voice, and you want that voice to be one of the dominant elements in the story. In a story where you want events, rather than voice, to be front and center, then third person is almost always better. In this case, I don't see that Jess has a distinctive voice. I also think events and character ought to be dominant, not voice, so third-person limited-omniscient POV is the best choice. You just need to learn to eliminate POV shifts and to describe everything as Jess would experience it.
Strengthening your POV and unifying the plot will give you a strong opening chapter to this promising novel. I hope this is helpful.
--Jeanne Cavelos, editor, author, director of Odyssey
Interview
This month, I had the distinct pleasure of interviewing Ilona Andrews. I've seen Ilona's name on OWW for several years and was surprised that "Ilona Andrews" is actually a psuedonym for a husband and wife team. The name was created by combining their first names. Clever!
They are the authors of Magic Burns and Magic Bites and are taking New York by storm. And now I have the opportunity to find out how they got there. I hope you will enjoy their interview.
You can visit this dynamic duo at their beautiful web site or on their blog.
You have the unique experience of writing with your husband, Gordon. How did that happen?
Before Gordon and I wrote together, we would discuss books and movies. Both of us were open to trying out things the other person enjoyed. I introduced him to heroic fantasy and he made me read Robert Parker's mysteries. Our first story kind of grew out of our discussions. Collaboration between us is based on trying to compensate for each other's weaknesses. Most of our manuscripts are combinations of Gordon's strong plot and my ability to create a distinctive setting.
How many years did it take you from your first manuscript to your first sale?
Define "first manuscript," heh. The very first manuscript we completed, an epic fantasy, was written somewhere around 1999. It was never submitted. The second completed manuscript was the very first version of Magic Bites, and I think it might have been somewhere around 2000. It was awful. Let's see, the third manuscript, The Dog and the Wheel, was finished somewhere around 2001, when Del Rey sponsored the workshop. It was entered into the first Gallery competition and didn't win anything. Then we rewrote Magic Bites and submitted it to Tor somewhere around 2004. It sat in Tor's slushpile for about a year and a half, after which Liz Gorinsky fished it out. A few months later we signed with an agent and he withdrew our submission from Tor and submitted it to Ace. Ace purchased it and an untitled sequel in June 2005. Magic Bites came out in March 2007. So, eight years? Somewhere around there.
I once wrote out a complete story of getting into print. It can be found here.
Where did the idea of "Magic Bites" come from?
It's very difficult for me to definitively say where most of our ideas come from. Gordon and I always were drawn to post-apocalyptic settings. We really liked old cartoons, such as Thundar the Barbarian, where magic and technology were blended. To some extent, we were both influenced by Tolkien as well: I always felt the magic leaving Middle Earth was a terrible, tragic thing. Wouldn't it be interesting if instead of magic leaving, it was coming back in and wrecking havoc on our orderly technology?
What has been your best experience as a published author?
Fans. We met a few people at a signing and it was wonderful. We receive a lot of fan mail, and I think it's absolutely awesome when people write to us.
What has been your worst experience as a published author?
There is a period of about four weeks preceding and following the publication date, which are just awful. You're running around all over the Internet, trying to do promotion, worrying if the book will do well, twisting yourself into a pretzel, because you finally noticed that typo on page 17 of your advance copy and it's too late to fix it. The pre-publication reviews start coming in, and you stress out over those. Then come the initial sales numbers. It's just crazy. If I could get away with it, I'd spend my prerelease weeks in a quiet dark hole with no Internet access.
What has surprised you most as a professional writer?
Hitting the New York Times Extended Bestseller List. Never thought it would happen in a million years.
What advice would you give beginning writers?
First, sort out your priorities. Do you want to write as a hobby or do you want to be a professional writer?
When I started out, a lot of people told me that breaking into publication is hard, being a professional writer is stressful and doesn't pay well, and that if I choose to do it, I should do it because I love it. I thought it was all doom and gloom and sour grapes. What could be better than sitting on my butt at home churning out stories? How hard could it be? And quite frankly I was a bit offended. What exactly made them think that I couldn't make it?
Turns out, those people were right, to an extent. Being a professional writer is a lot of work.
I write approximately ten hours a day, whether I feel like it or not, because muses are for wussies and I've never missed a deadline and don't plan on doing it, if I can at all help it. Each successive book is just as hard to write as the first, and it costs just as much in angst when it comes out, if not more. And the stress never ends: at first you worry about landing an agent; then about getting into print; then if your book comes out well, making any of the smaller lists; then you worry if it will sell through, earning out your advance; then you worry if the second book does as well or better than the first one, and so on.
Welcome to my world of neurosis.
I'm not saying don't do it. I'm saying do it, but go into it with your eyes open. If you do want this, then make a commitment.
To be a professional, you have to treat your writing as a job. You're looking at possibly years of having a part-time job, which has no guarantee of ever paying off, and when you finally make it, you get a load of anxiety for your trouble. If you want to write short stories, read as many as you can, take them apart, see how they work. If you prefer to be a novelist, do the same with novels. Know your playing field, but also read widely so you can bring something fresh to your genre. Educate yourself about the rules of the game: read Writer Beware and browse agent blogs like Miss Snark. Have realistic expectations as to your earnings.
The good news is that perseverance pays off. I'm a college drop-out and English is a second language for me. I worked my butt off and was able to break into print, so you can as well. Just don't go into it expecting free lunch and roses.
And finally, if you could do anything differently, what would it be?
I would rewrite our first book completely and get a better agent at the start.
Thank you, Ilona and Gordon! Intrigued readers can find Magic Bites and Magic Burns on shelves now.
Publication Announcements
Brenta Blevins has sold "Beyond" to ChiZine (Oct-Dec 2008).
John Hornor Jacobs sold "Sneaking In" sold to Doorways Magazine for publication in the Fall 2008 issue.
Patty Jansen sold "Never on a Birthday" to Byzarium.
Deborah Kalin, who used to go by the handle 'damselfly,' wrote in. "Just thought you'd like to know that I've sold two novels to Allen & Unwin; SHADOW QUEEN, the first book of the series, will be on shelves January 2009. At this stage it will only be Australian and New Zealand shelves, but my agent is working on securing US and UK distribution deals as well."
Sandra McDonald reports: "Sold, to Asimov's, my story "The Monsters of Morgan Island." This is my first to them, and I'm delighted. The story was written in June during the Blue Heaven workshop, and the setting is indeed Kelleys Island with a name change and some dramatic license. And the bit about the monsters, of course."
Jaime Lee Moyer just made her first short sale. Her short story, "This Is How We Remember," will be published in the October issue of Lone Star Stories. She wanted to thank the usual group of suspects--Jodi Meadows, Leah Bobet, Elizabeth Bear, Kat Allen, Rae Carson, Charlie Finlay, Paul Melko, Tom Barlow and Tobias Buckell--as well as anyone and everyone from OWW who has ever critted her work. Sales make her happy.
Karen Osborne has sold "Retirement" to Aoife's Kiss, for publication in December '08.
On Shelves Now
The Sweet Scent of Blood by Suzanne McLeod (Gollancz, September 2008)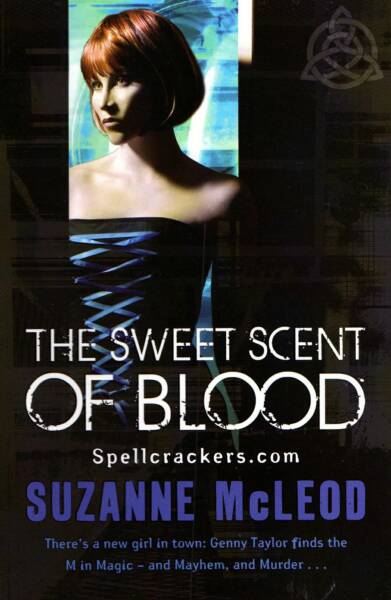 When Mr October, a sexy calendar pin-up vamp, is accused of murdering his girlfriend, an old debt is called in and Genny is forced to help prove his innocence, risking her job and the protection it offers - and threatening to expose her own dark secrets. Searching for the killer plunges Genny deep into the hidden heart of vampire society and it's not long before she realises that she and Mr October are both unwitting pawns in a centuries-old power struggle between London's non-human communities . . . and it's not just her own neck that's at stake, but the lives of all London's supernaturals.
Membership Info
Fees: $49/year, $30/6 months, or $6/month. First trial month free. (more)
How to pay: PayPal, Kagi, check in US dollars, money order in US dollars, barter (more)
Scholarship fund: We accept scholarship fund donations and award full or partial scholarships to active members in need. (more)
Gift memberships: You can give a gift membership for another member; just send us a payment by whatever method you like, noting who the membership is for and specifying whether the gift is anonymous or not. We will acknowledge receipt to you and the member.
Bonus payments: The workshop costs only 94 cents per week, but we know that many members feel that it's worth much more to them. 25% of any bonus payments we receive will go to our support staff; the rest will be tucked away to lengthen the shoestring that is our budget and keep us running! (more)
Tips
"The Smith's"
Ever seen that on a mailbox? I'm betting you the village smithy is not what's taking mail delivery there. This month we're offering you a tip on how to use the apostrophe when plurals and possessives collide. In brief, if you are trying to make a plural by adding an "s" to Smith, don't separate the two with an apostrophe! Let them stay together. If you need to make those Smiths own something (like a house or mailbox), put the possessive apostrophe after the "s": The Smiths'
I am tired of reading "the Harris-Braun's are living in Canaan" (apostrophe totally out of place--this is just a plural) and tired of all those mailboxes whose apostrophes are one character-place away from correct. (It will take a better grammarian than me to explain how and why "whose" works here.) I have a literal mind; when I pass a mailbox that says "The Hasselbender's" I start to wonder if there is a monster called The Hasselbender and if so, what kind of mail it receives. So do me a favor and watch where you put the apostrophe--on your mailbox, in submissions, and elsewhere.
--Ellen Harris-Braun, OWW founder and roving copy-editor in spirit
Got a helpful tip for your fellow members? A trick or hint for submitting or reviewing, for what to put in your author's comments, for getting good reviews, or for formatting or titling your submission? Share it with us and we'll publish it in the next newsletter. Just send it to support (at) sff.onlinewritingworkshop.com and we'll do the rest.
Until next month--just write!
The Online Writing Workshop for Science Fiction, Fantasy & Horror
sff.onlinewritingworkshop.com
support (at) sff.onlinewritingworkshop.com