January 2010 Newsletter
News
From all of us at OWW to all of you, Happy New Year!
Just in the nick of time, Walter Williams has returned to challenge us with new and challenging Challenges. Hooray!
We are also starting the year out strong with our first interview guest, the venerable and very awesome CJ Cherryh.
Looking forward, we hope 2010 is the year of success, wonder and discovery. Looking backward, older issues of the OWW Newsletter are now conveniently available via a new
newsletter archive page.
And in case you are not sure whether it is better to look forward or backward, the
OWW FAQ
(Frequently Asked Questions page) is now available to help you figure it out.
Plus, find a typo in our new FAQ and we will send you a limited-edition "Red Line of Death" Editing Pencil (related to the book Kate Wilhelm, Storyteller: Writing Lessons and More from 27 Years of the Clarion Writers' Workshop). Offer limited to the first five typos reported, though we doubt there are as many as five to be found. Send sightings to us at support (at) sff.onlinewritingworkshop.com by January 31.
As always, contact us if you have any questions, publication announcements, or ideas for improving the OWW Newsletter.
Maria Zannini, newsletter editor
newsletter (at) onlinewritingworkshop.com
Monthly Writing Challenge
And you thought I had forever laid down my mantel of your friendly neighborhood volunteer OWW Challenge Dictator.
You thought wrong.
As I once more take up the task of prodding folks to unfetter their words by taking a different look at the things they write about and prod them to write differently about the things they look at, I am reminded that the last time you saw a challenge from me, I challenged you to write a sap-free hopeless parting.
Now, it is time to write the unexpected reunion. Bring two people/things/pigs/flies back together that you sundered without hope or expectation that they'd ever see each other again. Make it sap-free. Remember, it is just as likely that that tear-filled embrace is followed by a knife in the back -- revenge at last, thought I'd never have the chance....
Remember: Challenges are supposed to be fun, but don't forget to stretch yourself. If you normally write fantasy, try SF. If you've never tried space opera, here's your chance. It doesn't have to be great. It's all about trying new things. There's no word limit, no time limit, no nothin'. Just have fun.
Challenges can be suggested by anyone and suggestions should be sent to Maria (newsletter (at) onlinewritingworkshop.com).
Editors' Choices
The Editors' Choices are chosen from the submissions from the previous month that show the most potential or otherwise earn the admiration of our Resident Editors. Submissions in four categories--science fiction chapters, fantasy chapters, horror, and short stories -- receive a detailed review, meant to be educational for others as well as the author.
This issue's reviews are written by Resident Editors Jeanne Cavelos, Karen Meisner, John Klima, and Karin Lowachee. The last four months of Editors' Choices and their editorial reviews are archived on the workshop. Go to the "Read, Rate, Review" page and click on "Editors' Choices."
Congratulations to the current Editors' Choice authors!
Editors' Choices, Fantasy
PULSE CH 13 by Kelly Bryson
I like tension between characters. I like characters that are so fully realized that they do their own thing even when faced with logic and extreme circumstances. I like strong characters who stick by what they know. Sometimes an author takes a wrong turn and seems to be making a character do what the author wants, forcibly making decisions for the character and in the end creating a sense of falseness.
In genre, writers are often faced with the problem of characters that are not human. How does the writer create something believable when there is no touchstone for how an elf feels, or what a vampire thinks, or the motivations of a shapeless alien? In those cases, as long as you sound plausible and stick to the logic you've set up there's no one who can contradict what you say. But what about when you've got a character who's human but is out of place? This is what Kelly Bryson tackles in PULSE with the young Lara, who has been raised in magical place called Home but now finds herself in our world.
Since Lara was not raised in our world, there is much she does not know. But since she is an empath there are things she understands about people and their motivations that are beyond the most talented expert in non-verbal communication. When Lara finds FBI agent David Hatton, whom she believes helped her escape from the FBI when in reality it was all a set-up, she is very confused about what's happening.
Lara and David have a few conversations where they just don't listen to each other, and I think it's great. Each is so focused on their own part of the conversation, on getting their own thoughts out of their heads, that they don't even try to explain anything to each other. When David reveals the trickery to Lara, it's devastating to her. You can really feel her sense of betrayal. However, Bryson has Lara say, "I'll tell you whatever you want to know" and there's nothing in context to help that make sense. You find out later that Lara wants to bargain what she knows for what she doesn't know, but in the context of the scene where she learns of the deceit that David perpetrated, it doesn't make sense to me for Lara to give up. If she's depressed, or upset, Bryson needs to tell the reader so that we have an idea of why she would give up. The motivations that are revealed later make sense, but I think the reader needs something earlier to understand why Lara appears to be giving up instead of running away.
There are a few nitpicky things I saw in this chapter. Bryson uses the word "wound" to mean "made one's way through" as opposed to "caused damage."
I am not a fan of using words that are homonyms. I think they lead to confusion. I initially read this paragraph with the "cause damage" definition in my head and had to go back and re-read the paragraph. You need to be very careful when using words like this. It's probably a good idea to just avoid them, but sometimes you can't. In those cases, make sure that you're giving enough context for the reader to come up with the right version of the word without confusion.
Similarly, when Lara tells David what she wants to know where babies come from, the first thing he does is ask what she wants to know. She just told him. If I told someone that I wanted to know how to make sourdough bread, I wouldn't expect them to ask me what I wanted to learn. It would be better for Lara to say "I want you to explain this world to me," which leaves it open for David to ask for further clarification. Otherwise, David just looks obtuse at best and stupid at worst.
The next nit I am picking at only happens once, and it may be a formatting error, but Bryson has both Lara and David speak in the same paragraph. I know that I've talked about this before. This is wrong. Don't ever do it. It doesn't matter to me how many examples you can find of people doing it, those are all wrong, too. You cannot have two different people speak in the same paragraph, particularly when you are not attributing the conversation with "he said"/"she said."
There is an excellent sequence just before Lara and David reunite where Lara uncovers that the FBI is investigating a long series of child abductions and Lara's mother is the main suspect. Lara's mother has been pulling these children into Home where Lara was raised. Lara even finds a photo labeled "Lara"; this time an infant instead of a young child. Lara takes the photo in order to confront her mother when she returns to Home. I thought this was handled excellently. I could feel Lara's pulse quicken, I could feel her trepidation as her whole world turned upside down.
Aside from a few small tics, this is a strong chapter. When I got done I immediately wanted to start reading the next chapter. Bryson has created a few things that are a little different from a lot of the urban fantasy that's out there. Overall, I am impressed at how convincingly Bryson portrays Lara and keeps her confusion at our world believable instead of falling into poor parody.
--John Klima, Editor, Electric Velocipede
Editors' Choices, Science Fiction
The Breeder's Child, Chapter 1 By David Emanuel
This is a post-apocalyptic tale of a diseased and ostracized male population that turns out a culture of girls and women: we're introduced to a bagger, Kylie, who hunts "throwaway" and "crawler" boys, and Dana, a teenager who doesn't know a world that existed before this separation of genders -- yet she lives at home with a militant-seeming mother and younger brothers who need 24-hour care. There's plenty of immediate intrigue and interesting social set-up in this first chapter and I remember reading an earlier draft a few years ago, which was also picked as an Editor's Choice. Then as now, the author does well in introducing a different future world without heavy dumps of information. Through the eyes of these two female protagonists, we begin to see a full picture of what this suburban life is like after an apparent widespread infection.
Kylie hoped to finish bagging the little boys and make it home before the clouds broke.
As a first line it's intriguing, it raises all the right questions of who this woman is and what does she mean by "bagging little boys" -- literally? We find out later that, yes, it is literal, and that scene of her wrangling children into a sack is appropriately disconcerting to the reader, even if it more or less rolls off Dana's back. In the next paragraph at the beginning of this chapter we get even more clues to the dystopic nature of this future world:
There'd be a full out storm before the sun rose, and Kylie hated rain. No matter what the experts wrote in their weekly letters, rain water might not be safe.
After this thought, Kylie later dismisses or glosses over the suspicion of the rain and thus it doesn't ring true after this set-up. Her interaction with the crawlers gives the sense that she gets off somehow, at least a little, on trapping and wrangling them and that she is very good at her job. Later having her think that the news might be right and rain could be safe, for all she knows, doesn't seem like an authentic thought for someone that embedded in the inherent violence of her job. Her being suspicious of the general public opinion reads more real.
Contrast that with Dana, a teenager, accepting that the rain is harmless, which makes more sense considering her level of experience in the world. The writer just needs to maintain a certain consistency of thought for each character, unless something marked happens to change it.
With what looks like an all-female civilization, with the male population being infected or otherwise cast off, the social implications of this and the future of the species are common story concerns that readers would expect to be explained or at least examined in some way. The details of the foam party, the interactions of the girls all read well, and ending on Dana going home is a great way to get the reader to turn the page, especially as the last detail is of her mother waiting for her with a gun. What is Dana's home life like in this future? The chapter ends as it began -- with intrigue.
The only other concern is the translation of the text onto the OWW page itself -- the weird symbols made the chapter unnecessarily difficult to read. I'm not sure what caused this and I'm sure it doesn't translate otherwise on a printed manuscript, but for presentation purposes in a public forum, if there's a fix for it, all the better! It would be a shame if people passed on reading this book and following it chapter by chapter because of the formatting.
Finally, a last kudo goes to the title choice: perfect.
--Karin Lowachee
Author of THE GASLIGHT DOGS, BURNDIVE and CAGEBIRD
Editors' Choices, Short Story
"Dried Skins Unshed" by Julie Day
Here we have a story about mysterious, menacing reptilian creatures appearing from the sea -- told from the point of view of a woman whose family is apparently descended from those very creatures. This brings the story beyond a simple monster thriller into something with psychological heft to it: our relationships to our own past histories are always a source of complex emotions, a rich territory to mine for powerful fantasy.
The narrator of "Dried Skins Unshed" lives on the coast, where she cleans rich people's houses. (For purposes of this review, I'm calling the narrator female, though as far as I could tell, her gender is not made explicit in the text and I really wish it were, because that ambiguity doesn't add anything to the story; it only obscures the character.) She's grown up on tales of the creatures who came out of the sea and became her ancestors; there is some sense that her people have it in them to change back and return to the water. The narrator herself is drawn to the sea, which is why she's remained in this beach town even after the rest of her family has gone inland. Yet when the creatures come to attack -- or claim -- her, she fights them off and returns to shore.
There are some lovely bits of description in here, as when the narrator describes the way age has changed her body, a natural transformation that also carries a hint of the horrific:
"And, yes, it seemed my muscles, too, had hardened: my neck ropey, the backs of my arms and calves bisected by long corded tendons, my skin no longer able to hide the connections that held my body together."
Other bits need some work, particularly a certain sentence structure that pops up often enough to read as a distracting stylistic tic. What I keep seeing is a straightforward clause, followed by a comma, and then a new subject modified by a present participle, sometimes repeated several times in a row. Examples:
This time of year the town was almost empty, Ocean City's few visitors waiting for a more hospitable season.
"Oh!" I said, the sound just slipping out.
I was none too steady on my feet, my body swaying back and forth as I tried to hold myself upright, and then, suddenly, I was going down, my right hand reaching forward to catch the side of the boat, my left hand swinging wildly, the bottle neck slashing into my forearm.
Each sentence on its own isn't bad, though they use a somewhat passive construction, which leaches impact out of the description. But when the same structure keeps showing up over and over, it makes the narrative feel repetitive. I recommend going through to look for instances of this structure, and reworking some of those sentences to make them more varied and direct.
I'd suggest revisiting the first paragraph of the story, too. Keep in mind that when readers initially approach the story, we are looking for clues as to what will be important. Think about what you're choosing to show us, where you are focusing our attention. In that first paragraph, we're given the names of three characters, which suggests they will prove significant and we ought to take note of them. In fact, two of these characters are never mentioned again, so our attention has been wasted on extranneous details, diluted away from the real meat of the story. I think the ex-boyfriend and the departed Aunt Karol can simply be cut out, or at least moved to later in the story.
Be aware of continuity issues, such as in the progression of the sea creatures' reveal. At first, the narrator sees only glowing green eyes, and then as they start to appear, she talks about their muscled bodies, scales, fins. A moment later, as they approach, she says: "They were more than eyes now." We've already seen their bodies described, so it comes across as a step backwards to say that they're more than eyes.
Speaking of progressions: one important thing to think about when you're shaping a story like this is the arc of tension and excitement. There is a distinct emotional climax in this story, and it happens when the narrator is in her boat, surrounded by frightening creatures, and finally manages to make her escape:
"The motor, in the end, did the trick. Blood dripping from my hand onto the steering column as I turned the key, and then the roar of the engine as it came to life."
This is great: a build-up of tension, a leap into action, escape! -- but then suddenly the story digresses into the narrator's leisurely musings on the past, remembering peaceful trips along the water with grandparents. The excitement is instantly deflated, and we are tossed out of the immediacy. This choice to cut away from the action right at its height is a surprising one; I believe it could become an effective moment, but it's not quite there yet. To make it work better, I'd say the contrast needs to be turned up higher. Let the scary part build up just a bit more of that satisfying scariness before the engine roars to life and we shift into the mellow past. Tighten that digression to make it a briefer shift into her older water memory, before returning us quickly to the exciting main event. Don't give us a chance to lose interest now -- you've got us hooked! Good luck with it.
--Karen Meisner, Editor, Strange Horizons
Editors' Choices, Horror
"Food for Thought" by Tony Peak
This story tells of Genevieve, who eats the brains of the deceased to experience their lives and is ultimately destroyed as their personalities overwhelm hers. The premise draws me in at the beginning, and the setting, during the French revolution, makes the story stand out. Nice details bring that setting and the story to life. I especially like the description of some of Claudette's memories, which Genevieve experiences: "Sweaty sex in the garden. Éclairs eaten in bed together on a Saturday morning. Fireflies caught amid giggles in summer twilight." You convey a lot there with a few words.
I see three main areas in this story that could be improved: setting up and foreshadowing the plot, telling where we need showing, and Genevieve's character.
1) Setting up and foreshadowing the plot: The climax of a story should feel both surprising and inevitable. It will feel surprising if it's a climax we haven't foreseen; it will feel inevitable if we realize that this is what had to happen, there could have been no other possible outcome. To be both surprising and inevitable, the climax must be something we did not expect, but at the moment it occurs, we realize that it is the only thing that could have happened, that it feels right based on all that has gone before. The climax of this story, when the other personalities take over Genevieve's body, feels surprising but not inevitable. It has not been sufficiently set up.
I don't know why these other personalities begin to exert control over Genevieve; it seemed as if only Claudette could do that. The fact that these other personalities are still alive in her after she's consumed their brains needs to be better established, and we need some hint about their agendas. Otherwise, it seems random (which means it seems manipulated by the author) that the personalities appear at the end and force Genevieve to confess her crimes.
You don't want to make this too obvious, because then you lose the surprise of the climax. But you also don't want to make it too subtle, or readers will not pick up on it, and they'll be left scratching their heads and feeling like the author forced the climax to go in a particular direction.
I suspect that when Genevieve started eating the brains of those still alive (though I'm not sure how they are alive while she's eating their brains), their personalities remained in her, unlike the personalities of those deceased. If that's the case, or if there's some other reason why the personalities are gaining control over Genevieve, you need to offer some hint of that. For example, perhaps one of the three men Genevieve kills and puts in Maurice's basement is a gendarme. And when she is about to kill the gendarme, she blurts out a warning to him, though she doesn't know why. She might accuse Claudette of trying to warn the gendarme, and Claudette could deny it. This would raise two questions in the reader's mind: (1) Is there some other personality in Genevieve beginning to assert control? (2) Who is sympathetic to the gendarme and wanted to warn him? This would be sufficient to set up the climax.
Genevieve's plan also needs to be better set up. When a character is carrying out a plan, it's not usually a good idea to have some key element necessary for the plan just pop up, and then explain that the character set it up earlier. That seems too convenient and feels like the author dropping in new elements that were thought of at the last minute. I get this feeling when you say, "Four gendarmes, attending the party due to Genevieve's tips she'd spread earlier." I need to see her spread those tips, or at least to have them mentioned earlier. Often, authors tend to put an element into a story at the spot where they think of it. Often, that spot isn't the best place for it. So you want to think carefully about when you are giving out various pieces of information.
2) Telling where we need showing: When Genevieve lives out Claudette's experiences, and later when the other personalities take over Genevieve's body, you tend to tell us what's happening, for clarity, rather than showing it. While clarity is important, the telling keeps us distant from Genevieve and from the supernatural experience. One of the main reasons people read fantasy and horror is to experience things they normally wouldn't. I really want to feel this experience of eating the brains and being swept into someone else's life--seeing what she saw, feeling what she felt, knowing what she knew. Here's an example of this telling:
"The sickening assault on her palate was forgotten as thoughts and scenes flowed into her mind. The noblewoman's persona awoke within Genevieve, a living, thinking entity she absorbed. Claudette had been her name. Seducer of men, secret addict of the snuff box. Genevieve forgot she knelt in a Paris slum. Now she was dressed in finery befitting a queen."
The rest of this paragraph and the next go back and forth between information about Claudette and Genevieve's current actions and thoughts in the alley. This section would be much stronger if you clearly established Genevieve's circumstances--kneeling on the hard cobbles of the alley, crouching over Claudette's skull, chewing on the wet, raw brains with the consistency of gristle--very vividly, and then showed sensations from Claudette intruding and taking over (and don't come back to Genevieve until the experience is over). That way, you wouldn't have to tell us that Genevieve forgot she was in a Paris slum; you would show it to us. For example, the passage quoted above might be rewritten like this:
"The raw beef flavor in her mouth thickened and deepened, a rich, dark chocolate. A tray of such chocolates sat before her, and she reached for another. The man beside her took her hand and brought it to his mouth. His lips were warm and gentle against her skin. She pulled free and slapped him playfully with her fan. He laughed, but his eyes were fixed on her, unblinking. He wanted her. She smiled and took the chocolate, licking her lips before she placed it in her mouth."
This is nothing brilliant, but I hope it gives you an idea of how you might just throw the reader into the experience rather than explaining the experience. Throughout the story, I felt that you were explaining things more than you were actually allowing me to experience them. Try going all out for the experience. Then if readers are confused in a few spots, you can always add in a telling statement or two to clarify.
3) Genevieve's character: If you do more showing, I think that will bring the me closer to Genevieve's character, so I can understand her better and feel what she's feeling. As is, I'm not quite sure how to feel about her. She seems to have lived a hard life, so I'm sympathetic to that. But she starts killing people and doesn't seem to feel much about it, and at that point, I become distant from her. It would be fine if I hated her and wanted her to be stopped, or if I related to her anger at Maurice, wanted her to get revenge, and understood that all these killings were critical to achieving that goal. But instead I'm somewhere in the middle, not really liking her and not really hating her or being horrified by her. That means the climax doesn't pack a lot of emotional power. Is this the comeuppance she deserves? Or are these other people, who have had better lives and always treated her like dirt, simply overpowering her once again?
I'd first suggest trying to show more vividly throughout, so we can experience what she's experiencing and feel her desires and goals more strongly (rather than just being told about them). Second, I'd suggest you give a little thought to how you want us to feel at the climax, and how you can create those feelings in the reader. I think that you may be too focused on withholding information about what her plan is, so you can surprise us when Maurice gets arrested for the three murders. But her clever plan is not what the story is about. The story is about a woman with a horrible life who gets a glimpse of something passionate and exciting, then sees Maurice betraying that memory, becomes determined to destroy him, and instead becomes overwhelmed by the passions of others. It's all about her feelings and the feelings of those inside her. That's where the focus needs to be.
In withholding information about her plan, you distance us from her, her pain at Maurice's actions, and her growing desire for revenge. I would not mind seeing every detail of the plan being put into place, and to know it in its entirety before it's executed. What is more important to me as a reader, and to the story, is to be close to Genevieve and experience how much Maurice means to her and how far she's willing to go to destroy him.
I think this story is very promising. I hope this is helpful.
--Jeanne Cavelos, editor, author, director of Odyssey
Interview
You'd be hard-pressed to find a science-fiction or fantasy reader who doesn't recognize the name CJ Cherryh. She has been a writer of profound importance for more than three decades. A multi-award winner, including several Hugos, a Campbell Award and the Locus Award, Cherryh has penned more than sixty novels and short stories.
Cherryh is an avid skater, traveler, and photographer, with a side of archeologist and linguist for good measure. In between her other loves, she writes, and I dare say, she does that pretty well.
It's hard to interview so distinguished an author without coming away a bit awed, but I hoped I asked the sort of questions that Cherryh fans and disciples would have to liked to ask. I hope you enjoy this interview.
***
What's the most profound thing that has changed about science fiction since your first novel came out in 1976?

The advent of computers and the Internet. Instantaneous communication. How many early SF plots would change if the hero had a cell phone? Plus had to worry about dna traces?
What comes first for you, the character or the plot?
The mess comes with the man...i.e., they arrive together. No man is an island...he's got connections, friends, enemies--they're all in the original package.
Tell us a little about your writing process. Do you like to have several projects going on at once or do you prefer one story at a time?
One at a time or it gets chaotic. Things are different right now as I'm prepping books to become e-books for our new e-book operation, so that means editing older books while writing my current novel, but that's unusual for me.
Is there any one book or series you've written that's become a personal favorite?
Oh, I love all of them.
Where do you think science fiction is headed in regards to popularity? Do you feel that fantasy has permanently usurped SF?
Not at all: the problem is that SF is leaving the printed market and going onto the Internet, where it may thrive in spite of the best efforts of the oil companies who bought up all the publishing houses to kill it off and go with tie-in books.
You write sociological science fiction that is both rich and complex. How do you go about building such sophisticated worlds? Does it grow organically as the story unfolds or is it premeditated?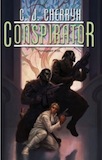 It's organic. My education fits me to be an archaeologist. When you're on site, questions occur to you and you dig up answers and put pieces together. A book is like a dig site. You delve into it and the pieces you find suggest your answers.
Do you have any advice for those looking for publication, specifically within the genres of science fiction and fantasy?
Try to get into print publication. If the market isn't amenable to what you send in and after you're sure of your professional quality, head for the Internet. But it is a lot easier to make a living if you can drag a readership with you when you move onto the Internet, rather than trying to use the Internet to find readers.
There is so much dreck out there you have to have something to distinguish you from the rest, and dazzling artwork won't save you if your story isn't professional quality. You're lucky; you're in an age that now has choices. The ones that have been through hell were those that tried to break into the print market back in the late 80's through 2000's. The market went crazy and is still crazy. You can still break in if you have just the thing the industry wants, but editors themselves have largely lost control of what goes into print--they have to put a finger up into the wind, check with the committee (which includes the oil company) and produce a profit every month or else, which means as close to mass market/trend as they can get. If you are not tailor-made what they're looking for, you're not going to be lucky, and you're going to have to hone your own skills and create on your own. Established writers are starting to do the same thing, especially since backlist is now dead: you can't get the older books in print. And that means that writers have to live off what they currently have in print--or get their rights back and do it themselves. I never in the world thought I'd be hoping a book of mine would go out of print.
What can we expect to see on shelves in 2010?
From me? Another Foreigner book or two.
Do you have any tips that keep you organized?
Yes. Sacredness of place and time. I have a working chair, with everything I need within carry of my hand: a bureau with drawers that does not hold clothes--it holds notebooks, paper, pencils, eyeglass cleaner, you name it. It's near a window with a pleasant view. And my mornings are for writing. My noons and afternoons may be chaotic, but my mornings are sacrosanct, and that's that. It takes an act of congress to get me out of this chair before I've written out my day's output. (You'll note this e-mail arrived in the morning: I use breaks in the writing to answer correspondence and maintain the blog site, but it's right back to story.) I skate in the late morning---that's the rink's schedule; but exercise keeps me mentally and physically fit. I do my accounting on one specific day, once a month; I do my organizational and other mindless work like file conversions in the evenings while watching telly. It's a full schedule lately. I work on a laptop, so everything is portable between my working chair and my seat on the couch in the living room. How many hours a day do I work? I get up at 5, get to work, skate at 11, do errands, shopping, housework and office stuff in the afternoon, and work from supper on to bedtime, about another 5 hours in the evenings. It's not an easy schedule. If not for the skating, I'd become far too sedentary.
***
Vist CJ Cherryh at her web site or her blog.
Find her ebooks at Closed Circle.
Publication Announcements
Leah Bobet is pleased to announce: "'Mister Oak,' which is a Wildean fairy tale about a tree and the girl he loves, is in the February 2010 issue of Realms of Fantasy (which is on newsstands from December to February). The issue's available both in the print version and as a free PDF download at http://www.rofmag.com/. The story was workshopped, and many thanks to Cathy Freeze, C.S. Inman, Patty Jansen and Daria Patrie for their crits! Also, 'Three Days and Nights in Lord Darkdrake's Hall,' which appeared in Strange Horizons in early 2007, will be reprinted in audio at Podcastle sometime in the near future."
Alliette de Bodard is on a roll! She says: "My SF dystopia 'Father's Flesh, Mother's Blood' will be appearing in Jason Sizemore's anthology DARK FUTURES. Many thanks to Jason for the invite and eventual acceptance, to Marshall Payne for helping me settle on a title, and to everyone who took a look at it on OWW: Colum Paget, Ilan Lerman, Mark Hunken, and Alter Reiss (special thanks to Alter for helping me see my original ending was rubbish), and to Justin Pilon for the awesome crit, as usual. I've sold 'The Jaguar House, in Shadow' to Asimov's. It's a novelette set in the Xuya universe (where China discovered America before Colombus, the same as 'The Lost Xuyan Bride,' 'Butterfly Falling at Dawn, 'and 'Fleeing Tezcatlipoca,' not to mention novel FOREIGN GHOSTS, currently with my agent). It focuses on the Aztecs in Greater Mexica, and the Jaguar Knights, elite spies and manipulators caught in the bloody aftermath of the civil war. Complete with blood sacrifices, crazy priests and hallucinogenic drugs. Wrote the first draft of this in Brittany last summer (somewhat amusingly, the previous sale I made to Asimov's, 'The Wind-Blown Man,' was also written in Brittany, so there's clearly something in the air here). I workshopped this on OWW, where it got very helpful crits from Christine Lucas (silverwerecat), Rachel Gold, and Swapna Kishore. If anyone wants me, I'll be in the flat, jumping up and down and making incoherent noises."
Liz Coley wrote us to say, cryptically, "'The Final Gift' to Strange Worlds Anthology (scheduled for spring 2010) and 'Immortals' to Cosmos Magazine (scheduled for Apr/May 2010)."
Jannette Johnson told us: "My short story 'Trip of a Lifetime' is now up at The Absent Willow Review. I workshopped it (I think) about a year ago and got some excellent suggestions. Thanks all. :)"
Vylar Kaftan says: "Just signed contracts with Podcastle. You'll be hearing 'Fulgurite' (from Sybil's Garage #6) and 'Something Wicked This Way Plumbs' (from Shimmer) in 2010."
Anna Kashina announced: "My workshopped story 'The Hatchling' appears in the current issue (42) of Andromeda Spaceways Inflight Magazine. If anyone is a subscriber -- please check it out. This story is my personal favorite and I am happy to see it in print. Thanks to everyone who critted it and encouraged me not to give up on it!"
Lindsay Kitson says: "So like three months ago, Thaumatrope was looking for steampunk stuff in 140 characters or less. So I took one of my planned lines from the Eyelet dove, squeezed the meaningful bits into a phrase that says more than it says, and sent it to them and they just sent me back saying it was accepted. And though it's too short to be considered a pro publication, it's the first paid one to my name. Even though the payment is $1.20, and Paypal transfer fees will eat it...I am a paid author :P"
Karen L. Kobylarz says, "I am writing to let you know my short story "Breath of Amun" has been published by Lacuna. It is currently available at http://lacunajournal.blogspot.com. I posted this story several times at OWW. Thanks to all workshop members who reviewed it."
Kim Colley has announced. "My short story 'Tom & the Bench Warrant' is available in the December 2009 issue of Aoife's Kiss, at your virtual newstand now!"
Tony Peak wrote us to say, "I wanted to let you know that 'A Kiss From a Marble Woman' has been accepted by Bards & Sages Quarterly for their July 2010 issue. I workshopped the story here, and would like to thank David Busboom, E. Alexander Hill, James Thomson, Jeanne Ayer, Kimberly Colley, Renee Otis, and Rhonda Garcia for reviewing the story and offering their help. Thanks, everyone!"
Stelios Touchtidis announced: "My short story 'Tumbling Parasol' was recently sold to MindFlights magazine. TP had been workshopped on OWW, and I want to thank all those who reviewed it--Paul Ellis, Marc Sellers, Sean MacUisdin, Karen Kobylarz, and in particular Gio Clairval, Erin Stocks and Rhonda Garcia, who managed to pinpoint a key flaw. When three top critters say something's broke, one better fix it--and apparently I did. What a difference OWW makes! This makes two for me in less than a month--I'm on cloud nine. I guess submitting, wiping the rejections off one's face, and trying again and again is the way to do it! Who knew?"
Michele Winkler told us: "Just wanted to let you know that 'Mysterious Jesse,' which went through OWW last year, sold to Another Realm, an on-line f/sf magazine. Thanks to everyone who offered advice."
Reviewer Honor Roll
The Reviewer Honor Roll is a great way to pay back a reviewer for a really useful review. When you nominate a reviewer, we list the reviewer's name, the submission/author reviewed, and your explanation of what made the review so useful. The nomination appears in the Honor Roll area of OWW the month after you submit it, and is listed for a month. You can nominate reviewers of your own submissions or reviewers of other submissions, if you have learned from reading the review. Think of it as a structured, public "thank you" that gives credit where credit is due and helps direct other OWWers to useful reviewers and useful review skills.

Visit the Reviewer Honor Roll page for a complete list of nominees and explanatory nominations.
December 2009 Nominees
Reviewer: Rayne Hall
Submission: Skin and Ecstasy
Submitted by: Colette Hawkins
Reviewer: Kevin Sullivan
Submission: Forbidden
Submitted by: Michelle Berry
Reviewer: C. S. Inman
Submission: A Shadow of Aphrodite
Submitted by: Jim Poulos
Reviewer: Kendra Highley
Submission: Midsummer
Submitted by: Maureen Ungar
Reviewer: Michael Goodwin
Submission: Skin and Ecstasy, Pease Porridge Hot
Submitted by: Colette Hawkins
Reviewer: Kristen Pham
Submission: The Emperor's Edge -- Chapter 22
Submitted by: Lindsay B
Reviewer: Erin Stocks
Submission: Tribe of Mary Lore Chapter 2 Revision
Submitted by: Frances Snowder
Reviewer: Steve Chapman
Submission: WITH GIO CLAIRVAL - A Rope for the Witch
Submitted by: Erin Stocks
Reviewer: Graeme Robertson
Submission: WITH GIO CLAIRVAL - A Rope for the Witch
Submitted by: Erin Stocks
Reviewer: Erin Stocks
Submission: A Shadow of Aphrodite
Submitted by: Jim Poulos
Reviewer: C. S. Inman
Submission: Between Two Living Gods
Submitted by: John Goodrich
Reviewer: Michael Keyton
Submission: NEVER, SARANGONG
Submitted by: Crash Froelich
Reviewer: Elizabeth Hull
Submission: NEVER, SARANGONG
Submitted by: Crash Froelich
Reviewer: Jeanne Haskin
Submission: NEVER, SARANGONG
Submitted by: Crash Froelich
Reviewer: Kendra Highley
Submission: NEVER, SARANGONG
Submitted by: Crash Froelich
Reviewer: S. E. Curnow
Submission: SARANGONG, LIONESS OF THE LOWLANDS
Submitted by: Crash Froelich
Reviewer: Ilan Lerman
Submission: NEVER, SARANGONG
Submitted by: Crash Froelich
Reviewer: Jeanne Marcella
Submission: The Emperor's Edge -- Epilogue
Submitted by: Lindsay B
Reviewer: Kendra Highley
Submission: The Emperor's Edge -- Epilogue
Submitted by: Lindsay B
Reviewer: Michael Staton
Submission: The Emperor's Edge -- Epilogue
Submitted by: Lindsay B
Reviewer: L. K. Pinaire
Submission: NEVER, SARANGONG
Submitted by: Crash Froelich
Reviewer: Sandy Garza
Submission: The Emperor's Edge -- Epilogue
Submitted by: Lindsay
Reviewer: Corie Conwell
Submission: The Emperor's Edge -- Epilogue
Submitted by: Lindsay
Reviewer: Lindsay B
Submission: Priest of Goddess Staritti, Chapter 21
Submitted by: Jeanne Marcella-Ayer
Reviewer: Lindsay B
Submission: Winterturn, Chapters 4-6
Submitted by: Terri Trimble
Reviewer: Lindy Kilby
Submission: Winterturn, Chapters 4-6
Submitted by: Terri Trimble
Reviewer: Teresa Frohock
Submission: Winterturn, Chapters 4-6
Submitted by: Terri Trimble
Reviewer: Kristen Pham
Submission: Winterturn, Chapter 4
Submitted by: Terri Trimble
Reviewer: Pam L. Hullin
Submission: Winterturn, Chapter 4
Submitted by: Terri Trimble
Reviewer: Christine Lucas
Submission: Winterturn, Chapter 6
Submitted by: Terri Trimble
Reviewer: Frances Snowder
Submission: Winterturn, Chapter 6
Submitted by: Terri Trimble
Reviewer: Jennifer Dawson
Submission: LIONESS OF THE LOWLANDS, NEVER
Submitted by: Crash Froelich
Reviewer: Erin Stocks
Submission: Blood Betrayal, Chap One Revised
Submitted by: Zoe Zygmunt
Reviewer: Margaret Fisk
Submission: A Rope for the Witch
Submitted by: Erin Stocks
Reviewer: Frances Snowder
Submission: Tasukete: Little Helper
Submitted by: David Cummings
Reviewer: Frances Snowder
Submission: Tasukete: Little Helper
Submitted by: Wm. Luke Everest
Reviewer: Tony Peak
Submission: My New Coat Of Pain
Submitted by: David Marshall
Reviewer: Lindsay B
Submission: Priest of Goddess Staritti, Chapter 22
Submitted by: Jeanne Marcella-Ayer
Reviewer: Wm. Luke Everest
Submission: THE TRIBE OF MARY LORE CHAPTER 4
Submitted by: Frances Snowder
Reviewer: Michael Goodwin
Submission: The Remnant, Chapter 6 - Die<
Submitted by: Cynthia Wright
Membership Info
Fees: $49/year, $30/6 months, or $6/month. First trial month free. (more)
How to pay: PayPal, Kagi, check in US dollars, money order in US dollars, barter (more)
Scholarship fund: We accept scholarship fund donations and award full or partial scholarships to active members in need. (more)
Gift memberships: You can give a gift membership for another member; just send us a payment by whatever method you like, noting who the membership is for and specifying whether the gift is anonymous or not. We will acknowledge receipt to you and the member.
Bonus payments: The workshop costs only 94 cents per week, but we know that many members feel that it's worth much more to them. 25% of any bonus payments we receive will go to our support staff; the rest will be tucked away to lengthen the shoestring that is our budget and keep us running! (more)
Tips
Got a helpful tip for your fellow members? A trick or hint for submitting or reviewing, for what to put in your author's comments, for getting good reviews, or for formatting or titling your submission? Share it with us and we'll publish it in the next newsletter. Just send it to support (at) sff.onlinewritingworkshop.com and we'll do the rest.
Until next month--just write!
The Online Writing Workshop for Science Fiction, Fantasy & Horror
sff.onlinewritingworkshop.com
support (at) sff.onlinewritingworkshop.com