Online Writing Workshop for Science Fiction, Fantasy and Horror
November 2014 Newsletter
News
November brings news about two of our Resident Editors and a unique opportunity to gain new writing skills.
OWW Resident Editors Jeanne Cavelos and Charles Coleman Finlay are two of the instructors for this winter's live, intensive online workshops offered by the Odyssey Writing Workshop. Odyssey offers only three online courses per year to ensure the highest quality, and brings in the best instructors in the field to give valuable information and insight. OWW Resident Editor Charles Coleman Finlay will be teaching a course for the first time this winter, along with longtime OWW Resident Editor Jeanne Cavelos. Jeanne will teach her much-sought-after class "Showing versus Telling in Fantastic Fiction" and Charlie will teach "Effective Endings in Speculative Fiction." Classes are limited to fourteen students, so this truly is a great opportunity to work closely with the instructors. You can find more information about all the Odyssey Online courses here.
OWW has improved the looks of our Member Directory and also the interface for updating and editing your listing there. It should be much easier on the eyes, with more reliable formatting tools. Review your Member Directory listing and make sure it's up to date!
And don't forget that November is National Novel Writing Month! Start a brand-new project, or apply what you've learned on OWW to polish up a story you love. At OWW HQ, our resident 13-year-old is getting ready to participate--no reason you can't join in!
So until next month, keep writing and keep learning.
As always, contact us if you have any questions, publication announcements, or ideas for improving the OWW Newsletter.
Jaime Lee Moyer, newsletter editor
news (at) onlinewritingworkshop.com
Monthly Writing Challenge
Our ever inventive challenge dictator Leah Quire has another idea for us: "Many people in the U.S. are planning to celebrate Thanksgiving in November based on the human version of history. However, after doing some heavy investigation, your character has discovered that the truth behind this holiday is so fantastic, it had to be buried for the sake of Earth's future. What really happened over 200 years ago?"
Remember: Challenges are supposed to be fun, but don't forget to stretch yourself and take risks. If you normally write fantasy, try science fiction. If you've never tried writing in first or second person, here's your chance. The story doesn't have to be a masterpiece, this is all about trying new things and gaining new skills, and most of all, having fun. Challenge stories can go up at anytime. Put "Challenge" in the title so people can find it.
Challenges can be suggested by anyone and suggestions should be sent to Jaime (news (at) onlinewritingworkshop.com).
Grapevine
Nightmare is seeking original horror and dark fantasy stories of 1500-7500 words. Stories of 5000 words or less are preferred. They pay 6 cents per word for original fiction, on acceptance, and 1 cent per word for reprints. Full details here.
SNAFU II: Survival Of The Fittest is looking for horror survival stories of between 1,000-10,000 words featuring soldiers. Payment is 4 cents (AUD) per word and the submission window is October 1 to December 31, 2014. Full details here.
Read Short Fiction is dedicated to publishing quality stories of between 1,000 to 4,000 words in almost all genres. Stories are meant for a general audience, so no erotica. Payment is 5 cents per word, with a maximum of $150 per story. Full details here.
Dreams From The Witchhouse is a Lovecraftian anthology seeking stories written by women. No restrictions on setting or time period, only that the story be written by a woman. They want stories between 2,000 to 10,000 words. Payment is 5 cents a word up to 5k, 3 cents a word over 5k. Full details here.
Editors' Choices
The Editors' Choices are chosen from the submissions from the previous month that show the most potential or otherwise earn the admiration of our Resident Editors. Submissions in four categories -- science fiction chapters, fantasy chapters, horror, and short stories -- receive a detailed review, meant to be educational for others as well as the author.
This issue's reviews are written by Resident Editors Jeanne Cavelos, Leah Bobet, Liz Bourke, and C.C. Finlay. The last four months of Editors' Choices and their editorial reviews are archived on the workshop. Go to the "Read, Rate, Review" page and click on "Editors' Choices."
Congratulations to the current Editors' Choice authors!
Editor's Choice, Fantasy
SKY PRISONER, Chapter 1 by H. Issa
Sometimes it's not possible to say what draws the attention to one piece of work over another. It can be as simple as a name or a phrase, or as complex as a mood or writing style. In this case, it was the coincidence of two words appearing in connection with each other: "dragon" and "thief." I've always been a sucker for stories that sound like they have the potential to be fun.
Sky Prisoner, Chapter 1 isn't quite fun yet: it needs a bit more work. But the potential for something solid is there in broad outline.
What have we got here? How is it working? How could it work better?
This is a very short (~1600 word) first chapter. It introduces a main character (Valina Vallomir); her situation (in a prison serving a ten-year sentence for, it seems, stealing a dragon); an antagonist or possible future ally (the dragon rider captain who Valina initially thinks is taking her towards execution); and spends a significant proportion of the time describing scenery as Valina is brought, or say rather marched, across a city to a Hall where an Elder (an Important Person of some kind, species elf) is waiting for her.
There's some good imagery here ("sea full of beryl gems," "sunlight filtered in between the ivory pillars") but at the sentence level the prose doesn't distinguish itself particularly well. There are some occasional small issues of spelling and grammar, as well, which I won't get into: instead let's talk about the purpose of an opening scene, and the role and importance of exposition in order to create a smooth and convincing entrance to the world of the story.
It's part of the toolset a writer needs throughout their work, but it's especially tricky and especially vital right at the beginning. Confidence and conviction are utterly necessary: create the right outlines and drop the right kinds of hints, and the reader will wait to join the hints up on their own. Start off without creating the right sorts of frameworks, and even the most forgiving of readers won't stick around long enough to discover where things are headed. An opening scene needs to communicate the writer's confidence and the fullness of the world of the story: to introduce character and world (and also to set tone and mood for what follows). There are two very common failure modes here right out of the starting gate. One is giving too much detailed information too quickly, so that the information overwhelms any other kind of content: infodumping. The other is to fail to realise that what's presumably obvious to the writer is not at all clear to the reader, and therefore neglect to lay down the appropriate trails of breadcrumbs that would guide the reader to suitable understandings.
Sky Prisoner, Ch 1 partakes a little of both. It's a little too direct when it comes to conveying information about the viewpoint character's background, but fails to make the most of its opportunities to convey information about world, background, and setting in general, leading to a sense of narrative confusion. (This is also a line of direction problem: it's important to lay the breadcrumbs in the right order.)
Let's look directly at the first three paragraphs.
"Valina Vallomir sat very still in her cell as it spiraled up and down the sky over her sleeping city. The sun would soon rise and she'd be able to cross another day off her ten-year sentence. Another cell flew close to hers and through the glowing bars of the rectangular cage; she could see another figure hunched in the tight space. They slept and lived like circus beasts in cages too small to stretch in.
The sun broke across the horizon; golden light spilling over the beautiful city and Valina closed her eyes. The sky was too blue to bear. It reminded her of the dragon she had stolen. Its scales were the color of swirling sunlight reflected of a sea full of beryl gems.
Her cell jerked to a stop and her eyes shot open. Gasping, she looked around. There was no reason for it to stop and it was too early for a food delivery. She spotted two winged figures flying towards her. She waited and waited and when they approached all she could see of them was a dark silhouette etched against the sunrise."
There are several issues here that, combined, lead to confusion. What cells (or cages) are these, and why (and how) are they in the sky? This is an opening that could do with a little judicious exposition: a nice concise paragraph on what this apparent prison is, why it exists, and how it works would in itself be a good hook -- it's not every book that has a flying prison, which signals from the start that here is something a little different -- while laying the groundwork for a spot of worldbuilding, the details that set scenes and create a fully realised world inside the text.
For the rest of this review, visit the Editors' Choice area of the OWW site!
--Liz Bourke
"Sleeps With Monsters" columnist at Tor.com
Book reviewer for Tor.com, Strange Horizons, and Ideomancer
Editor's Choice, Science Fiction
HER ENDEARING YOUNG CHARMS by Heidi Kneale
Most writers get pretty good at critically editing our rough drafts. We can see the big problems and start making fixes right away. But often it gets harder to edit when we have a nearly finished draft. After we've read our manuscript closely and carefully and tweaked it a dozen times or more, it gets hard to see things.
That's exactly the problem faced by the writer of this month's Editor's Choice. In her author's note, she says: "every time I look at this ms, I lose myself in the characters and story and my brain keeps glossing over the words I use (familiarity breeds literary blindness)." She specifically asks for help with line edits.
The good news is that HER ENDEARING YOUNG CHARMS is well written and highly polished. However, the author is right that that it could be improved with some line-level changes.
When you don't know where to start with line edits, I suggest stepping back and looking closely at the opening hook, end hook, and transitions. By pulling those things out of context, you can sometimes prevent yourself from getting lost in the other stuff. Also, these are the things that make readers start reading a chapter or section and make them want to keep reading when they come to the end. So it's important to make them as strong as possible.
HER ENDEARING YOUNG CHARMS is a cross-genre novel mixing Regency romance and magic. The two main characters are Lord Alexander Rochester and Miss Merrybelle Hales. Everyone expects them to get married eventually, but Lord Alexander has yet to propose and Merrybelle intends to have fun until he does. The book opens with the aftermath of a robbery that may undo all their plans. The first half of Chapter 1 recounts things from Lord Alexander's point of view, and the second half switches to Merrybelle. Each knows things about the robbery that the other doesn't, but in both cases it's information that -- for good reasons -- they cannot share.
Here are the opening paragraphs:
A few things bothered Lord Alexander Rochester about the Honourable Miss Merrybelle Hales' story of highway robbery. Quite a few, actually.
He watched her from across the crowded floor of Almack's, a hundred thoughts tumbling through his head, a thousand emotions warring in his heart. The spitfire of a girl he knew as a child had grown into a most elegant creature. Oh, the fire was still there, and the love of drama. Even now, she'd drawn a circle of rapt listeners, hanging on her every word.
She and her parents were held up by highwaymen yesterday. They had been waylaid and robbed of their valuables. That was the first thing that bothered him.
That first sentence is strong -- very specific and very efficient. In just sixteen words, it introduces two characters with memorable details (one is lesser nobility, the other is single), an external conflict (her robbery), and an internal conflict (his doubts).
The second line, however, doesn't carry its weight. It repeats a detail from the first sentence, actually just an adjective, and adds a couple of weak modifying adverbs. Then there is no transition from the second sentence to the description in the second paragraph.
When we read forward, we discover that chief among the things that bother Lord Alexander is "her reaction to the kiss" from the highwayman. He knows this at the beginning of the scene already, so why not use it as a hook and as a way to transition into the second paragraph? Like this:
A few things bothered Lord Alexander Rochester about the Honourable Miss Merrybelle Hales' story of highway robbery. None more than the kiss.
It's a very smooth transition then from that specific detail, the kiss, which hangs in the air like a mystery, to his looking at Merrybelle and examining his feelings toward her. The kiss doesn't have to be explained right away, but can unfold in the normal course of the narrative. And it doesn't ruin the surprise later in the scene, when we find out that it's not the fact of the kiss but her reaction to it that affects him so.
The first line of the second paragraph follows a similar pattern: something very specific (he sees her across the crowded room at Almack's) followed by a description that is very general ("a hundred thoughts tumbling through his head, a thousand emotions warring in his heart").
In the second half of the chapter we find out that Merrybelle has created a magic locket, which not only attracted the highwayman and caused the kiss, but which had an effect on many of her suitors: "Her charmed locket did its work, drawing all sorts of eligible young men to her side. Lord Alexander was among them…"
For the rest of this review, visit the Editors' Choice area of the OWW site!
--C.C. Finlay
Guest Editor, Fantasy & Science Fiction
Author of the Traitor to the Crown series
www.ccfinlay.com
Editor's Choice, Short Story
"Human Natasha" by Karen Rylander
"Human Natasha" caught my eye this month because of its fascinating layering: A story where the intriguing deep-space exploration method is present, but not the point; where the years that have passed from Earth to now impact the story, but aren't the point; where the race and gender identification of the characters matter hugely, but aren't the point. They're all well-realized, well-planned story elements working together in service to a mystery plot that blooms into two characters -- or maybe three! -- finding a way to be whole.
So there's a great deal going on in "Human Natasha," some elements of which cohere more strongly than others. And that's what I'd like to focus on this month: how to get that sense of cohesion in a piece with this much depth, and how we can use craft elements to present an organized story that still lets readers trace clues to a conclusion.
The tiny hints in "Human Natasha" about Matthew James and how he fits -- or doesn't -- in Natasha's consciousness are probably the backbone of the story. Just the small details of how he's addressed -- the more formal "Matthew James" versus Natasha's brother's casual "Cal" -- creates a brilliant dissonance from the first page. The growing realization that Matthew James isn't actually part of Natasha's family or life fits right into one of the definitions of good plotting: asking interesting enough questions and providing satisfying enough answers for readers as they read. The slow confirmation of the readers' feeling that something is wrong here acts as both interesting question and deeply satisfying answer -- almost a perpetual motion machine of plot.
I'd suggest, though, that the hints occasionally get too blatant: "I want to run and jump like all the other kids, I mean, like all the other people," for example. It almost feels like a worry that readers won't get the delicate work going on here, and compared to the subtlety of the other work, it sticks out hard. So my first suggestion would be to look at the hints about Matthew James's nature as their very own narrative arc: make sure each new piece of information builds upon the last, and takes what readers already know into account to build a complete, cohesive picture.
The author's notes ask if the ending is too sappy, and I'd argue it's not, for several reasons: Natasha's "caring for" Matthew James avoids feeling overly sentimental because they're so intimately the same person, but also because there's a sense of emotional distance over the entire narrative. If this isn't a deliberate choice on the part of the author, it's possible that this might be why the author's notes also express a concern over not quite loving this story. I'm not personally sure that the distance harms the story inherently -- it quite easily ties into the inhumanness of robot-Natasha, as well as how emotionally locked-down she is regarding Sofia and letting herself love anything -- but it's something that should be checked on to ensure it's a choice.
The major suggestion I'd like to put forward concerns the pacing in "Human Natasha." While the rule of thumb that every scene should contribute two or three elements to a story holds here, we don't often talk about what order our scenes appear in, and how that impacts the cohesion of the story. The effect of the short scenes in "Human Natasha" is choppy, with a sense that the narrative drags -- not because each scene doesn't contribute to the story, but because none of the conflicts can quite get going before they're cut off for something else. So I'd suggest looking at each scene and, rather than asking if it should be there at all, asking where in the story it should be. Which order of scenes produces the best narrative tension, and gives readers enough to stand on to tackle the next piece of information?
It's a lot of considered work, but with some structural thought and effort and a quick proofread for grammar, punctuation, and spelling, there's a great deal of potential for the sheer density of content in "Human Natasha" to really click, and to shine.
Best of luck!
--Leah Bobet
Author of ABOVE and the forthcoming ON ROADSTEAD FARM
Editor's Choice, Horror
"The Red Man and the Witch" by Perry Broxson
Many stories start strong but fall apart by the end. Top horror editor Ellen Datlow has said that weak endings are the most common problem she encounters. For me, the best part of this story is the final third. In that section, the plot has a series of twists and revelations that are fun and exciting, and the mysterious red man becomes an unexpected and unconventional detective, seeking the truth. The truth revealed is satisfying and believable, and the ending provides a final, enjoyable twist.
While the final third works well, there are several elements in the earlier two-thirds of the story that could be strengthened. For me, most of the humor in the story is not effective. The story uses several techniques in the attempt to create humor. One is overheated, overwritten prose. For example, "Temperance's bonnet loosened as she remonstrated, releasing a sheaf of fiery, red hair" and "Her polydactyl child startled and began to cry. Its screech was of such a profane tone, a maleficent frequency, that people covered their ears" and "Where the sheriff's hands had been, plants grew. Foliage sprouted, flora throve." The historical setting of the story, during the Salem witch trials, requires a style that reflects the time period, but the style here doesn't make me feel like I'm in 1692. It makes me feel like the author is laughing to himself as he's writing in this overheated manner. That may not be true, but that's the feeling I get as I read. And for me, that sensation throws me out of the story. Instead of enjoying a tale of characters behaving in believable but humorous ways, I'm feeling like the characters, their dialogue, and their actions are not anything I can believe in but just an excuse for over-the-top language.
In some places, where this technique is not being used, the language is quite strong and effective, as it is here, when the red man enters: "Forty, seventy, ninety heads turned toward the back of building, craning to see the speaker. Theirs was a small community; voices were markers -- as recognizable as faces, more certain than signatures. This voice, however, was utterly alien."

Another technique used to create humor is overacting characters. Sally Tinker leaps to her feet and applauds, which seems too strong a reaction for what has happened. Later she hisses. The red man's initial appearance seems overplayed, and some of his actions seem unmotivated, such as throwing his hat to the rafters and howling. I understand he has a theatrical personality, but if his theatricality was reduced by about 50%, it would still come through and he would seem more believable (as well as more powerful). He seems to be trying too hard to seem special now. While there are many different types of humor, in this type of story, which is trying to mix humorous and serious elements, I think it's important that the reader be able to believe in the characters. I had a hard time doing that for much of the story, because the characters' words and actions seemed exaggerated and over-the-top, rather than arising out of their personalities, desires, and obsessions. A character's actions tend to be most funny when we absolutely believe the character would take the action, but at the same time we recognize it is incongruous or ridiculous.
The third technique used to create humor in the story is the revelation of unexpected and incongruous truths. This technique becomes dominant in the final third of the story, and it is used quite effectively. The revelations are believable, fun, and exciting. So my suggestion is to focus on this third technique for the humor in the story and to cut the other two techniques.
The other element I'd like to discuss is the viewpoint. The point of view of the story feels shifting and unclear. I think third-person omniscient POV is intended, but that doesn't come through strongly. The main problem is that the voice of the narrator does not feel like it comes from 1692, as discussed above. It doesn't feel like a voice that represents Salem. Often, an omniscient narrator will be a representative of that time and place. For example, such a narrator would believe in the danger of witches and believe in the danger of someone with red hair. Such a narrator wouldn't describe the accused red-headed witch as "an exotic in a town beset with bland brunettes" or "a bird of paradise in a flock of wrens and warblers." This is the voice of someone from outside the culture of Salem in 1692. But I don't know who it is or why this narrator is in the story, since this voice doesn't seem to contribute to the story. I think the story could be much more effective (and funny) with a narrator who shares the beliefs and feelings of the people of Salem. As we are immersed in those beliefs, we can find them by turns horrifying and humorous. Another issue to consider in voice is word choice. While I'm not an expert on the time period, some of the words used don't seem appropriate, such as kinetics (which came into use around 1860) and mutant (which came into use after 1900). Making the voice more consistent with the time and place would allow us to enter this setting and enjoy the inherent humor in the characters, their beliefs, desires, and actions. Reading some material from that time could provide helpful guidance in creating this voice. The OXFORD ENGLISH DICTIONARY is also an invaluable resource, describing the origins of words.
I really enjoy the final chunk of this story. I hope my comments are helpful.
--Jeanne Cavelos, editor, author, director of Odyssey
Spotlight
Joshua Palmatier is a fantasy author with a PhD in mathematics. He currently has six books published with DAW: the Throne of Amenkor trilogy, the Well of Sorrows series (written as Benjamin Tate), and Shattering the Ley (released in July 2014). His short stories have appeared in Close Encounters of the Urban Kind, Beauty Has Her Way, River, and the soon-to-be-released Apollo's Daughters. He co-edits anthologies with fellow fantasy author Patricia Bray, including After Hours: Tales from the Ur-Bar and The Modern Fae's Guide to Surviving Humanity from DAW, and Clockwork Universe: Steampunk vs. Aliens and the forthcoming Temporally Out of Order from the small press he founded called Zombies Need Brains LLC. Find out more about him online at www.joshuapalmatier.com and www.benjamintate.com, or friend him on Facebook or Twitter (@bentateauthor).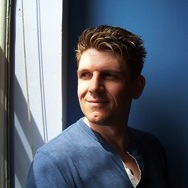 Starting up a new small press was not something I'd planned on doing. Just the thought of it -- even now -- is scary, putting a little twist in my gut and stone at the back of my throat. But after publishing two themed anthologies through DAW Books and realizing -- during the big upheaval in publishing five years or so ago -- that the traditional publishers were cutting back more and more on anthologies in general, I decided that if short-story anthologies were going to survive, starting a small press was something that needed to be done. Even after that decision, it took me three years to get started. I held out hopes that the upheaval would end and the industry would recover and return to where it had been.
But that didn't happen.
So I sat down in summer 2013, during my break from my day job, and said, "Just do it."
And Zombies Need Brains LLC was created. I did the legal work, hired a lawyer for contracts, and hired a tax person to keep my sanity. I set up the Kickstarter for our first anthology concept, Clockwork Universe: Steampunk vs. Aliens, because I knew I couldn't afford to produce the first few anthologies on my own. (Ten years ago, before Kickstarter, before crowdfunding, that would have meant the idea of a small press was dead in the water before it even began.) I spread the word about the press through social media . . . and then, not without some trepidation, I hit "start," and the rollercoaster ride of that first Kickstarter, its success, and the production process afterwards began.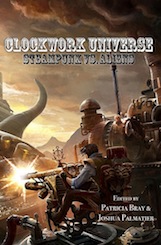 I learned many things during that first year and first project. I learned that the production of a quality book costs more than expected, even with hefty "buffers" built into the budget. I learned that everything takes more time than expected, especially graphics and printing and wrangling cats -- er, I mean authors. I learned that finding great original stories for such an anthology is hard (which is why we're doing an open call for submission for our current project, Temporally Out of Order). And I learned that even with all of these setbacks and negatives and stressors, creating an anthology completely from scratch -- choosing the cover art, selecting the stories, editing it, and putting it all together -- is nearly the most exciting and thrilling thing that I've ever done. (Only finishing my own stories and novels and seeing them on the shelf is better.) But most importantly, I learned that the SF&F community is extremely supportive of projects like this, which means that my small press may actually succeed. I wouldn't call it a success yet; it's still too early, even with one anthology on the shelf and another successfully funded and on the way.
So now I'm sitting here, at my computer, excited about the year ahead. I have a new project to put together, and I know that this time that process will run more smoothly; I've been through the gauntlet once and know some of its pitfalls. I'm also terrified, because Zombies Need Brains LLC is still in its infancy and there are yet more dangers ahead. If it could succeed on willpower and hopes and dreams alone, it would already be a force, because I believe in it -- in its power, in its necessity, in its ability to bring great SF&F into the world. But I know that its success depends on so much more than that. It needs good stories. It needs great concepts for additional anthologies. It needs the support of the SF&F community -- yes, in the practical monetary sense, but also in the word-of-mouth sense. A simple "Hey, look at what ZNB is doing!" boosts the small press in more ways than can be counted.
That's where the press is right now -- balancing on a cusp. There's a clear road ahead, a safe path, where the press succeeds and produces great anthologies and original novels into the future. But there's a dark forest to either side. I've already drawn my sword, my grip sweaty, the blade heavy.
But I'm ready and willing to take that next step.
--Joshua Palmatier
To find out more about Zombies Need Brains and submission guidelines for its latest project, visit the web site.
Publication Announcements
Resident Editor Leah Bobet's poem "On Living Authors" appears in the Fall 2013 issue of Goblin Fruit.
And Resident Editor Liz Bourke has a poem in Goblin Fruit, too: "Image from a Postcard Sketched Between City and Dragon," which you can listen to as well as read.
Greg Byrne has great news: "My debut novel Nine Planets, a most unusual speculative thriller workshopped on the OWW, is available for pre-order on Amazon Kindle and is due for release by Dragonwell Press on November 30!" Ten times awesome, Greg!
Gio Clairval made another sale: "Gräfenberg Fulfillment" will appear in Give - An Anthology of Anatomical Entries, edited by Michelle Kilmer and T.J. Tranchell, from When the Dead Books, due out February 14th 2015, for US National Donor's Day. Congrats, Gio!
Robert Graves sends this great news: "Very proud of being in Escape Pod with my workshopped story "Rockwork." Another workshopped story "Bullman and the Wiredling Mutha" is in the next issue of Interzone, along with two other Workshop contributors Tom Greene and Tim Major. OWW is taking over the world." Taking over the world was the plan all along. Congrats, Robert!
Henry Szabranski has another sale to add to his growing list. "Kella Vector" will appear in a future issue of Perihelion Science Fiction. Super congrats, Henry!
Reviewer Honor Roll
The Reviewer Honor Roll is a great way to pay back a reviewer for a really useful review. When you nominate a reviewer, we list the reviewer's name, the submission/author reviewed, and your explanation of what made the review so useful. The nomination appears in the Honor Roll area of OWW the month after you submit it, and is listed for a month. You can nominate reviewers of your own submissions or reviewers of other submissions, if you have learned from reading the review. Think of it as a structured, public "thank you" that gives credit where credit is due and helps direct other OWWers to useful reviewers and useful review skills.
Visit the Reviewer Honor Roll page for a complete list of nominees and explanatory nominations.
[October 2014] Honor Roll Nominees
Reviewer: Merc Rustad
Submission: By the Right of the Divine REVISED v.2 (Crit for Crit) by Sharon Bennett
Submitted by: Jon Paradise
Reviewer: James Clougher
Submission: Spero - Chapter One by Harrison Perry
Submitted by: Harrison Perry
On Shelves Now
The Girl of Fire and Thorns Stories by Rae Carson (Greenwillow Books, August 2014)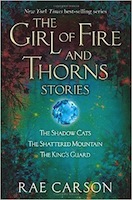 The Girl of Fire and Thorns Stories by Rae Carson (Greenwillow Books, August 2014)
Get swept away in the world of Rae Carson's acclaimed, epic, New York Times best-selling Girl of Fire and Thorns series with these three novellas. Before Hector was Commander of the Royal Guard and Elisa's true love, he was a young new recruit. In The King's Guard, watch him prove himself -- and uncover a secret that he must keep forever. In The Shadow Cats, discover how Elisa's rivalry with her older sister looks from Alodia's point of view, and why Alodia agrees to marry her sister off to King Alejandro. And in The Shattered Mountain, learn how Mara survived her village's destruction before she became Elisa's best friend and handmaiden.
The Clockwork Dagger by Beth Cato (Harper Voyager, September 2014)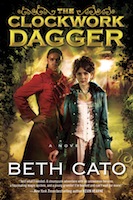 Orphaned as a child, Octavia Leander was doomed to grow up on the streets until Miss Percival saved her. Gifted with incredible powers, the young healer is about to embark on her first mission, visiting suffering cities in the far reaches of the war-scarred realm. But the airship on which she is traveling is plagued by a series of strange and disturbing occurrences, including murder, and Octavia herself is threatened. Suddenly, she is caught up in a flurry of intrigue: the dashingly attractive steward may be one of the infamous Clockwork Daggers -- the Queen's spies and assassins -- and her cabinmate harbors disturbing secrets. But the danger is only beginning, for Octavia discovers that the deadly conspiracy may reach the crown itself.
Membership Info
Fees: $49/year, $30/6 months, or $6/month. First trial month free. (more)
How to pay: PayPal, Kagi, check in US dollars, money order in US dollars, barter (more)
Scholarship fund: We accept scholarship fund donations and award full or partial scholarships to active members in need. (more)
Gift memberships: You can give a gift membership for another member; just send us a payment by whatever method you like, noting who the membership is for and specifying whether the gift is anonymous or not. We will acknowledge receipt to you and the member.
Bonus payments: The workshop costs only 94 cents per week, but we know that many members feel that it's worth much more to them. 25% of any bonus payments we receive will go to our support staff; the rest will be tucked away to lengthen the shoestring that is our budget and keep us running! (more)
Tips
This month's featured article from our Tips and Advice section:
Workshop member Greg Byrne on scene analysis--how to make sure each scene helps the story
Got a helpful tip for your fellow members? A trick or hint for submitting or reviewing, for what to put in your author's comments, for getting good reviews, or for formatting or titling your submission? Share it with us and we'll publish it in the next newsletter. Just send it to support (at) sff.onlinewritingworkshop.com and we'll do the rest.
Until next month--just write!
The Online Writing Workshop for Science Fiction, Fantasy & Horror
sff.onlinewritingworkshop.com
support (at) sff.onlinewritingworkshop.com